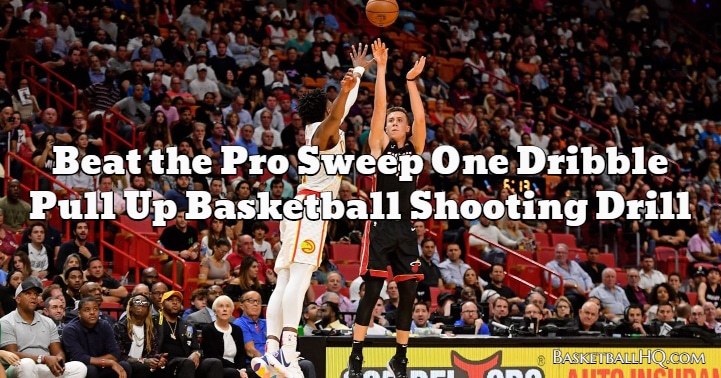 Shooting in the gym when no one is watching is a completely different feeling than shooting the ball with the game on the line in a packed arena. There isn't anything that can really simulate that type of pressure, but there are some basketball drills that you can use to help. The beat the pro drill is a shooting drill that puts pressure on the shooter and forces them to hit shots to win.
Beating this basketball shooting drill requires you to make one shot at a time, and sometimes you may find yourself in a hole where you have to dig your way out by hitting 5 or 6 shots in a row. After a while, it doesn't become a big deal to hit a shot or multiple shots in a row with the drill on the line, which translates to a game.
Basketball Drill Overview
Drill Name: Beat the Pro Sweep One Dribble Pull Up Basketball Shooting Drill
Equipment Needed: 2 basketballs and 2 partners.
Similar Basketball Drills and Resources
Goals of the Drill
Get lots of reps at the sweep 1 dribble pull up and work on shooting under pressure.
Coaching Points
Keep your eyes up and cover ground on the sweep.
You can sweep either way when you catch the ball.
Stay in your shot, and don't run off to the next spot until you see if it makes or misses.
Have a short memory and focus on the next shot; one shot at a time.
To make this off the dribble basketball shooting drill more difficult, you can make the misses worth 3 or 4 points.
Basketball Drill Instructions
There will be a passer, and a rebounder, and the shooter will start in the corner.
This drill can be done from one of three different places around the arc; corner to wing, lane line to lane line, and opposite corner to the wing.
The shooter must start in one of the corners.
He/she will catch the pass and do a sweep one dribble pull up shot move to the right or left.
After shooting the basketball, they will run to the wing (outside the 3 point line), catch the pass and do the same move.
They will continue back and forth between the two spots doing the same move at each spot.
The shooter gets 1 point for every make, but the Pro (imaginary player) gets 2 points for every miss.
The first person to get to 12 points wins the drill; you must make 12 shots before you miss 6.
The shooter may only move to the next set of spots after they beat the pro from the first set of spots.