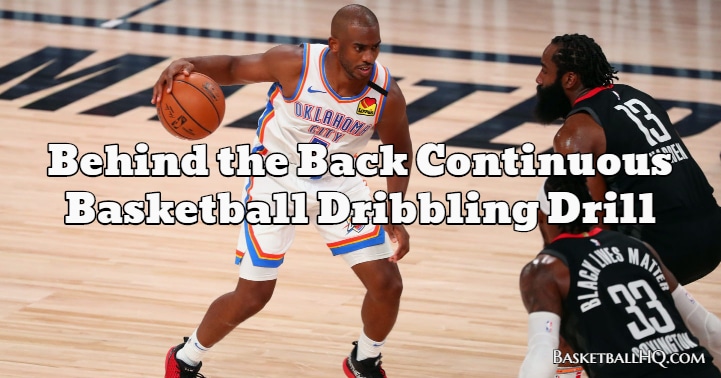 To do a move in a basketball game, you need first to practice it and get lots of reps at doing it. This behind the back basketball dribbling drill allows you to work on your handles and the behind the back dribble move. After practicing this basketball dribbling drill, you should be more comfortable making the move in an actual game.
This is a great stationary basketball dribbling drill for youth players up to NBA level players because it is all about what you put into the drill. If you challenge yourself to go as hard and as fast as you can, this basketball drill will improve your handles.
Basketball Drill Overview
Drill Name: Behind the Back Continuous Basketball Dribbling Drill
Equipment Needed: 1 Basketball
Similar Basketball Drills and Resources
Goals of the Drill
Improve ball handling, hand speed, and work on the behind the back dribble move.
Coaching Points
It is okay to mess up; just keep pushing it.
Keep your head up, stay balanced, and stay in a low balanced position.
Basketball Drill Instructions
Start in a low athletic dribbling stance with the ball in your right hand.
Cross the ball behind your back to your opposite hand.
Without taking any stationary dribbles in between, immediately dribble the ball back behind your back.
Continue this behind the back dribbling motion for 30 seconds, and then stop.