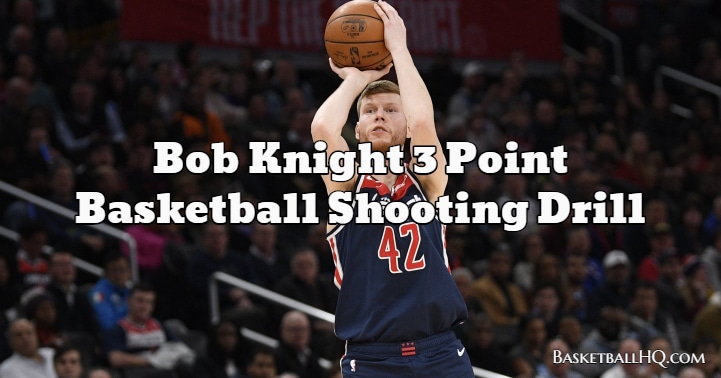 Becoming a great basketball shooter is not something that happens overnight. It takes the right basketball shooting form, but then after that, it takes countless hours in the gym to train your muscles to repeat that motion every time.
During the course of the game, you are not going to shoot from the same spot every time or have an unlimited amount of time to get your shot off. You need to be able to shoot and make shots at game speed.
This basketball shooting drill will help you work on these areas so that you can shoot with confidence in a game. Regardless of where you are shooting from on the floor, you will have confidence because you have already worked on that shot.
Basketball Drill Overview
Drill Name: Bob Knight 3 Point Basketball Shooting Drill
Equipment Needed: 2 Basketballs and 1 Partner.
Similar Basketball Drills and Resources
Goals of the Drill
Coaching Points
Basketball Drill Instructions
One player is going to stand under the basket with both basketballs.
The shooter is going to stand on the right lane line extended.
The player under the basket will pass one of the basketballs out to the shooter, and the player is going to shoot the ball.
He/she will then immediately run to the other lane line extended for the next shot.
Go back and forth for the desired amount of time, usually 1-2 minutes.
Once the time runs out, the players will switch positions as quickly as they can and repeat the drill for the same amount of time.
You can use this basketball drill as a competition for your entire team.
This drill can also be done from different spots on the floor, wing to the corner, and wing to the top of the key.