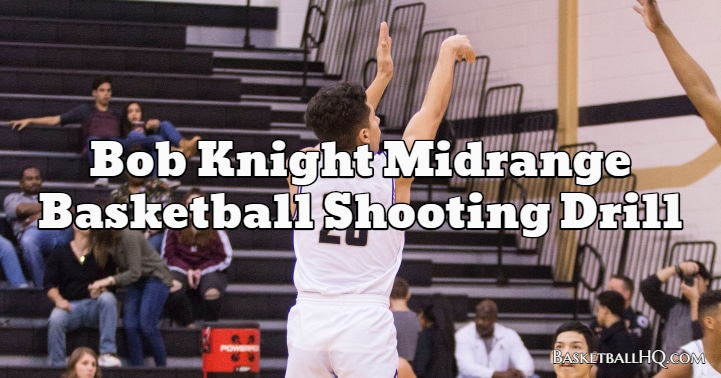 Being able to shoot a basketball on the move is a different feel from standing still and catching and shooting. It is important to be able to do both so that you are a complete shooter. The more well rounded you are, the more comfortable you will be with whatever type of shot you get during the course of a game.
This basketball shooting drill is great because it works on so many things at one time. It improves your footwork, shooting mechanics, form, gives you repetitions, and builds up your conditioning. Being able to shoot when you are tired is mental as well as physical. This basketball drill will help you break through both of those barriers.
Basketball Drill Overview
Drill Name: Bob Knight Mid Range Basketball Shooting Drill
Equipment Needed: 2 Basketballs and 1 Partner.
Similar Basketball Drills and Resources
Goals of the Drill
Improve your shooting and learn to shoot when you are fatigued.
Be able to shoot on the move and build your mental endurance.
Coaching Points
Start down ready, shoot the ball the same every time, jump straight up and down, and hold your follow-through.
Fight through the fatigue and stay mentally strong.
Basketball Drill Instructions
The shooter will stand at the right elbow and get down ready for the shot.
The passer/rebounder has both of the basketballs in the paint.
He/she is going to pass one of the balls out to the shooter, and they will shoot the ball.
As soon as they land, they will run to the opposite elbow for the next shot.
The rebounder must pass them the ball before they go get the first rebound.
The shooter will continue back and forth for the set amount of time; between 1-2 minutes is recommended.
Once the time ends, the players will immediately switch spots and repeat the drill.
This catch and shoot basketball shooting drill can also be done from the corner to the wing and wing to the top of the key.
You can also make this drill into a competition between your team and see which two players can get the highest score.