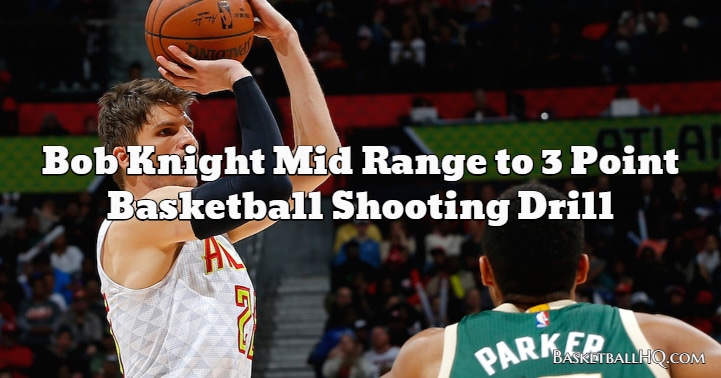 Bob Knight is one of the most famous coaches in the game of basketball. He has over 900 college wins in his coaching career. This is just one of his basketball drills, and it will allow for quality catch and shoot shots.
This basketball shooting drill will work on shooting on the move and conditioning at the same time. The idea is to get lots of shot repetitions at game speed. As your legs get tired, you will have to really focus on your basketball shooting form and technique and stay mentally engaged.
Basketball Drill Overview
Drill Name: Bob Knight Mid Range to 3 Point Basketball Shooting Drill
Equipment Needed: 2 Basketballs and 1 Partner.
Similar Basketball Drills and Resources
Goals of the Drill
Coaching Points
Shoot the basketball the same every time, jump straight up and down, and hold your follow-through.
Fight through the fatigue and stay mentally strong.
Basketball Drill Instructions
The partner will stand under the basket with both basketballs, and the player shooting starts at the right elbow.
The player at the elbow will catch and shoot the ball and then immediately run to the opposite elbow for the next shot.
They will go back and forth for a shot at each elbow.
The partner rebounding the ball has to pass the ball before he goes to get the rebound.
The goal is to get as many makes as you can in the designated time.
After 1 minute, the shooter will back up and shoot from the 3 point line extended elbow to extended elbow.
They will then shoot 3 pointers for 1 minute.
When the first shooter finishes shooting, the passer becomes the shooter, and the shooter becomes the rebounder.
Keep track of both players' points together.
You can use this catch and shoot basketball shooting drill as a competition for your entire team.
This drill can also be done from different spots on the floor, wing to the corner, and wing to the top of the key.