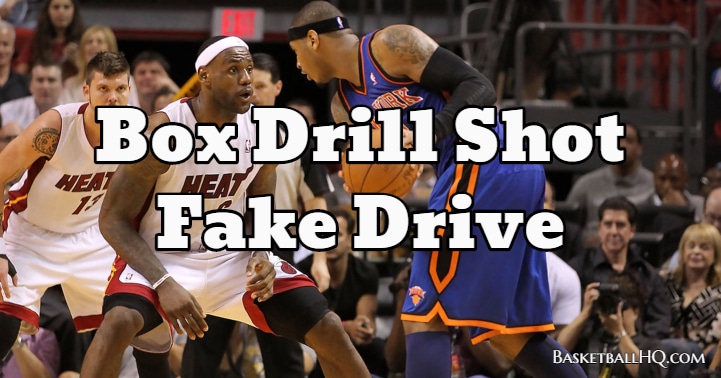 It is important that you practice basketball game moves and that you practice them at game speed. This basketball finishing drill is great for creating realistic scoring moves that you will use in a game. When you catch the ball on the wing, you should always catch it in triple threat and square up to the basket. If you are in the short corner or elbow, you can catch it and face up. A big part of this is the correct footwork, which is part of what this basketball drill will focus on.
Basketball Drill Overview
Drill Name: Box Drill Shot Fake Drive
Equipment Needed: 1 Basketball.
Similar Basketball Drills and Resources
Goals of the Drill
Work on your footwork and be able to make a move with either foot being your pivot foot and be able to pivot forward and backward.
Coaching Points
Come out hard to get the ball and really practice being strong with the ball.
Visualize the defender in front of you and sell your shot fake.
Sell your moves and be explosive out of your shot fake.
Don't step back after your shot fake and go in a straight line to the basket.
Basketball Drill Instructions
You are going to do a total of 8 moves, 2 out of each pivot.
The pivot moves are left foot forward and reverse pivot, and right foot reverse and forward pivot.
Do one move on each lane line and alternate lane lines each time.
Start on the block with the ball and spin it out to the elbow.
Run up to the elbow, jump stop, and grab the ball with both hands.
Make your pivot move, shot fake, and then drive to the basket for a finish.
You can use any finish, so mix it up and be creative.