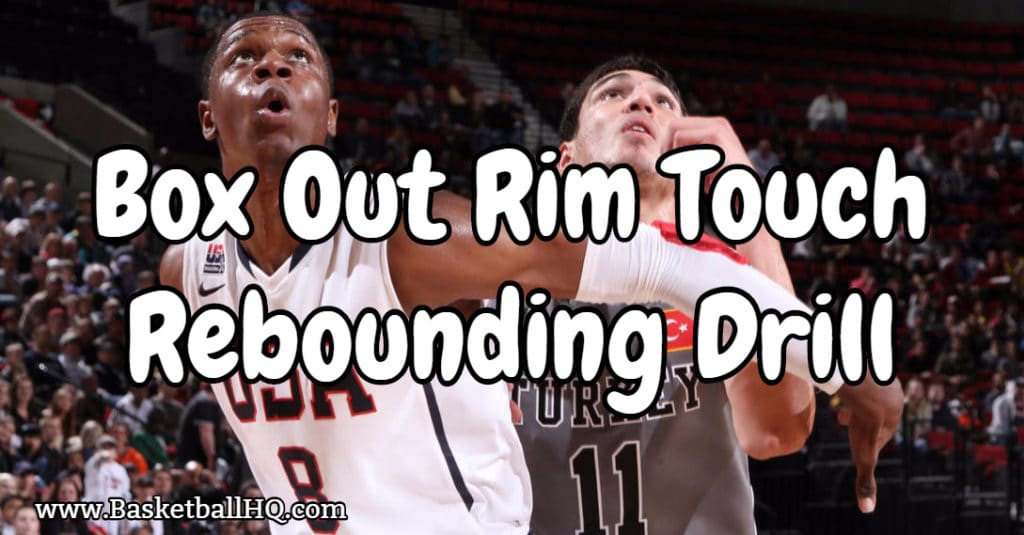 This is a great rebounding basketball drill to work on the fundamentals of boxing out and work on the player's ability to release and go get the rebound after the box out. Boxing out and driving the opponent back is just the first step and is only half of the battle. The great basketball rebounders can do this and then finish the play by releasing to gather the basketball at its highest point. This drill isn't going to use a ball, but it will still practice that quick and explosive jump to get up off the ground on the rebound.
If you want to be a great shooter, you do basketball drills that focus on shooting; the same goes for rebounding. You have to spend the time working on the fundamentals and technique to be a great rebounder. This drill can be added to the end of your practice or basketball training. If you want to be good at rebounding, you have to spend your time working on it.
Basketball Drill Overview
Drill Name: Box Out Rim Touch Basketball Rebounding Drill
Equipment Needed: 1-2 partners and 1-2 pads.
Similar Basketball Drills and Resources
Goals of the Drill
Work on boxing out, driving backward, and then releasing and getting up off the ground to rebound the basketball.
Coaching Points
If you don't have 2 partners and 2 pads, do half of the reps to one side of the basket and then switch sides.
Keep your hands up and drive the pad backward.
Get up off the ground as high and as quickly as you can.
Usually, 8-12 repetitions per set are good for this drill.
Basketball Drill Instructions
There will be a partner on each block with a pad, and a player will be in the middle of the paint facing towards the free-throw line.
When the drill starts, the player is going to chop their feet in a defensive stance.
The coach will say go, and the player must check the pad with their forearm, and then immediately drive the pad back with their hips/lower back for a couple of seconds.
They are then going to release from the pad, take a step, jump off both feet as high as they can, and grab the rim (if a player can't grab the rim, have them get up as high as they can on the net, don't grab the net).
When the player lands, they will go right back into a defensive stance and chop their feet.
When the coach calls go again, the player will go to the opposite side to box out.