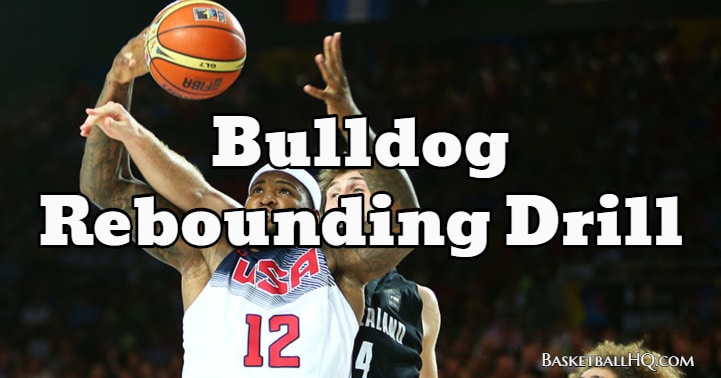 This is a great basketball drill to work on becoming a great rebounder, but also just learning to compete and fight for rebounds and finishing in the paint. Working on technique for different skills is a must for developing players, but it is also important that you spend time simply working on competing. When both of these areas come together, you can create players that can dominate.
Rebounding basketball drills like this will create an environment that promotes competition. It will teach your players to fight and battle even if they are outmatched or out maned. They will be able to apply the correct rebounding techniques, but they will also have the mental mindset and toughness to fight for every board. Along with this being a great drill for working on competition, rebounding, and finishing, it is also a good defensive basketball drill because it will teach your players to be able to wall up in the post and fight for position.
Basketball Drill Overview
Drill Name: Bulldog Basketball Rebounding Drill
Equipment Needed: 1 basketball, a coach, and 3 players.
Similar Basketball Drills and Resources
Goals of the Drill
Coaching Points
Fight for position and anticipate where the rebound is going to go.
Know when to quick finish or power finish.
The defense can work on walling up and practicing good defensive habits as well.
Basketball Drill Instructions
The basketball drill is going to start with all three players in the paint.
Every player is for themselves.
When the shot goes up, everyone is trying to offensive rebound.
The ball is live until one of the three players scores.
So if a player gets a rebound misses the putback, the ball is still live and is treated as an offensive rebound.
You have to score from inside the paint.
You also have the option to kick the ball out to the coach and post up.
After every made basket, the ball is kicked back out to the coach for another shot.
The drill is usually played to 3, so the first player to score 3 baskets wins.