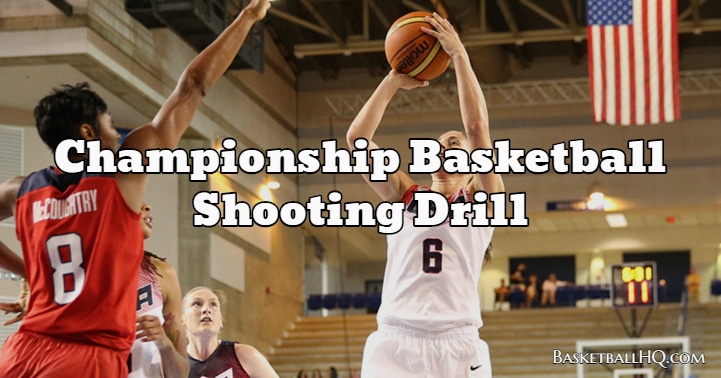 Being able to shoot the basketball at a high level has a lot to do with mental toughness and being able to lock in even when you are tired. During a game, you may miss a couple of shots in a row, or you may be tired from the course of the game, but a great shooter in basketball is still able to step up and make the big shot.
This combination basketball shooting drill will force the player to make shots with pressure on them and while they are fatigued. It is a great basketball shooting drill to do at the end of a workout to test the player's ability to be mentally tough and make shots.

Basketball Drill Overview
Drill Name: Championship Basketball Shooting Drill
Equipment Needed: 1 basketball and 1 rebounder.
Similar Basketball Drills and Resources
Goals of the Drill
Work on shooting and making shots under pressure.
It is also a great basketball drill for working on shooting when fatigued.
Coaching Points
Shoot the ball the same way every time and really lock in on the basketball shooting fundamentals as you get tired.
Have a short memory and stay engaged in the shot that you are shooting.
A great time is under 3 minutes.
Basketball Drill Instructions
The shooter is going to start in the corner and the rebounder in the paint.
When the drill starts, the player must make a total of 3 three-pointers in a row.
Once they complete that, they must make a one-dribble pull-up going right and one going left.
Finally, they must make a rip through layup/dunk going right and then going left.
Once they complete all of these makes from the corner, they will repeat from the wing.
The drill goes until the player has completed all the makes from five different spots around the arc (corner, wing, top of the key, opposite wing, and opposite corner).
The goal is to complete the drill as quickly as you can; time the drill to see what time you get each time.