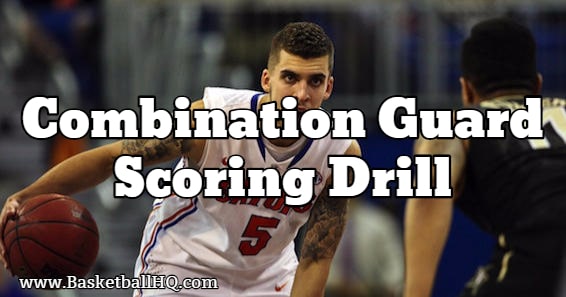 This combination basketball shooting drill is used by the South Alabama coaching staff, and it is going to focus on different scoring moves that a guard or wing player will come across during the course of a game. It is important to practice offensive moves that a player is going to get in your offense so that they are comfortable executing the move when they get a chance to use it during the course of a game.
Another great thing about basketball shooting drills like this is that they force the player to stay mentally engaged and think as they get tired. Having the player do a sequence of different moves in a row will force them to think throughout the course of the drill.
Basketball Drill Overview
Drill Name: Combination Guard Scoring Basketball Drill
Equipment Needed: 2 basketballs, a cone/chair, and 2 partners.
Similar Basketball Drills and Resources
Goals of the Drill
Work on different types of scoring moves that will be available within the flow of the offense.
Coaching Points
Stay mentally engaged throughout the basketball drill and lock in on the details of each move.
Always set up the imaginary defender before using a ball screen or cut.
Stay in your shot until you make or miss, don't run off early to the next shot.
Basketball Drill Instructions
Set up a cone or chair outside the 3 point line on the right-wing.
The player will go through a sequence of 3 types of shots, all on the right side of the floor.
The first shot will be refusing an imaginary ball screen on the right-wing for a dribble pull-up shot.
On the second shot, the player will start down at the baseline and then come up to receive a handoff for a shot at the elbow.
For the third and final shot of the sequence, the player will start on the right block, sprint to the middle of the paint to set an imaginary back screen, and then fill up to the top of the key for a screen the screener catch and shoot shot.
Repeat this sequence 3-5 times and then have the player shoot free throws before repeating it on the other side or change players.