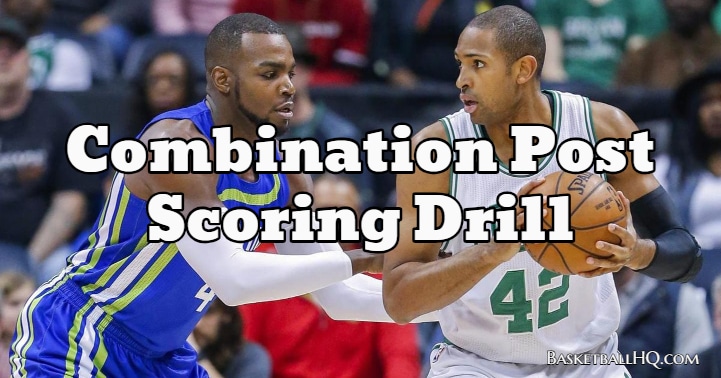 There are going to multiple different scoring situations for a post player during the course of a game. Depending on the versatility of the post player, these scoring options really increase. There will be options to strictly post up, but you are missing out on so much if that is all you do.
This post-move basketball drill will work on several different great scoring opportunities that a post player will have during the course of a game. It will also teach the post player some different options that they have out of each scoring situation.
Basketball Drill Overview
Drill Name: Combination Post Scoring Basketball Drill
Equipment Needed: 2 basketballs, 2 partners, and cones/chair.
Similar Basketball Drills and Resources
Goals of the Drill
Work on different post scoring opportunities and finishes.
Coaching Points
Really lock in on the details of the different moves, cuts, shots, etc.
Visualize the defense when making your moves.
Every move needs to be done at game speed.
As you get tired, really make sure that you are locking in on the proper technique of each move.
Basketball Drill Instructions
Set up a cone just outside the left elbow and start at the 3 point line above the cones.
The passer is going to be on the opposite wing and the rebounder by the basket.
To start this basketball drill, the player will come off the cones like they are receiving a diagonal back screen to the basket.
The player will receive the ball and can go quick finish or use a post-move (work on both).
After that shot, the player will post up on the right block, and the passer will shift up to the lane line.
When the passer drives the ball, the post player must slide out to the short corner and receive a dump-off pass from the passer.
The player will catch the ball moving towards the basket and use a swing step to attack.
From here, the player can choose a quick finish, shot fake finish, shot fake reverse finish, etc.
For the last shot of the series, the player will start on the block and fill straight up the lane line for a catch and shoot shot (simulating fill or replace shot).
The passer needs to have shifted back over to the wing before making the pass.
This completes the series of shots.
Repeat the series of shots 3-5 times through, and then switch sides of the court.