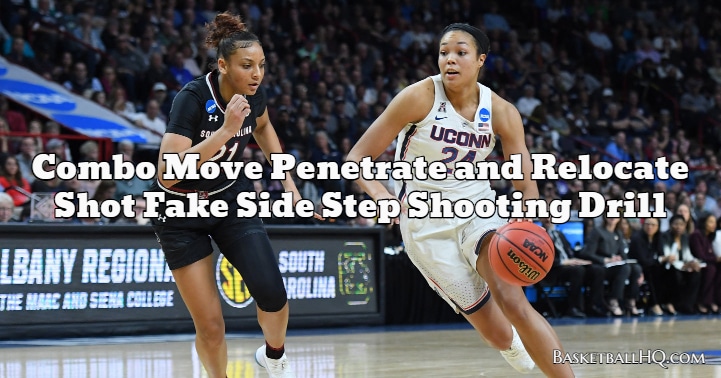 If you beat your man off the dribble and then kick the ball out to an open teammate, your job is not done. It is important that you immediately relocate and space in case they re-drive the ball and have to kick it back out to you. For this basketball drill, you will work specifically on that, and then finish the drill with a shot fake side step 3 point shot. Along with working on the skill aspect of driving, kicking, and then relocating for a shot, this basketball shooting drill will also be helping the player build the habit of relocating after kicking the ball out.
Basketball Drill Overview
Drill Name: Combo Move Penetrate and Relocate Shot Fake Side Step Shooting Drill
Equipment Needed: 1 basketball, chair/cone, and 2 partners.
Similar Basketball Drills and Resources
Goals of the Drill
Work on beating your defender off the dribble, kicking out to an open teammate, and then relocating for a shot fake side step 3 point shot.
Coaching Points
Make sure that you are under control on the drive and come to a jump stop on the kick out so that you do not get a charging foul called on you in a game.
Sell your shot fake and then pound dribble the basketball before shooting so that it comes up into your shooting pocket.
Basketball Drill Instructions
Place a chair/cone just outside the 3 point line along the lane line.
One partner will be on the wing and the other in the paint as a rebounder.
The player will start 5-6 feet above the chair with the basketball.
They will dribble at the chair, make a combo move, drive past their defender to the outside, and then kick the ball out to the partner on the wing.
The partner will immediately re-drive the ball to the paint, and as they are, the player must relocate out to the wing for a kick out.
The player will catch the ball, shot fake, take a side dribble, and then shoot a 3 pointer.
This completes one repetition.
This combination basketball shooting drill can go for a certain number of shots, makes, or time and should be done on both sides of the floor.