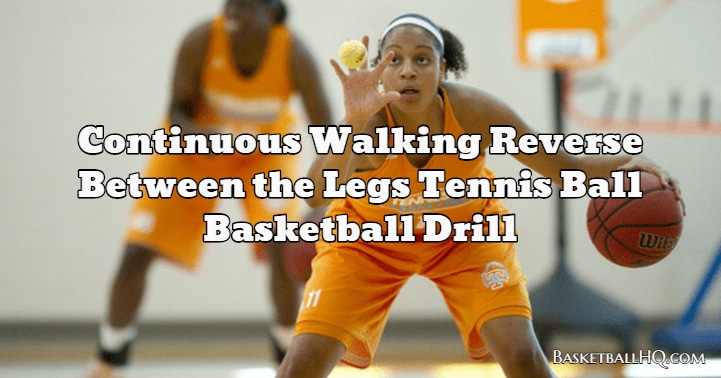 Being a good ball handler requires you to dribble the basketball without having to look down and focus on your dribbling. Tennis ball basketball dribbling drills are great because they cause you to focus on the tennis ball and not the basketball.
This specific basketball dribbling drill will work on the reverse between the legs move, but it will incorporate a tennis ball that the player must toss and catch each time they do the move. By having to toss and catch the tennis ball, they will have to complete the move quicker, keep their eyes up, and work on their hand-eye coordination. As much as basketball drills like this work on ball handling, they also are great for developing touch. So whether you are a guard or a post player, this is a great drill to use in your workouts.
Basketball Drill Overview
Drill Name: Continuous Walking Reverse Between the Legs Tennis Ball Basketball Drill
Equipment Needed: 1 basketball and 1 tennis ball.
Similar Basketball Drills and Resources
Goals of the Drill
Learn how to dribble without looking down at the basketball and work on eye-hand coordination.
Coaching Points
Stay low in an athletic stance as you dribble, focus on a good toss when you throw the tennis ball up in the air.
Basketball Drill Instructions
Start on the baseline with a basketball in your right hand and a tennis ball in your left hand.
Begin walking forward, and as you cross the ball over to your left hand, reverse between your legs (if the basketball is in your right hand, your right leg is going to be forward when you dribble it between your legs).
As you cross the ball over to your left hand, toss the tennis ball up in the air and catch it with your right hand.
Now dribble the ball reverse between your legs again from left to right and toss and catch the tennis ball again.
Alternate back and forth between hands all the way down the floor and then come back but walk backward and do it.