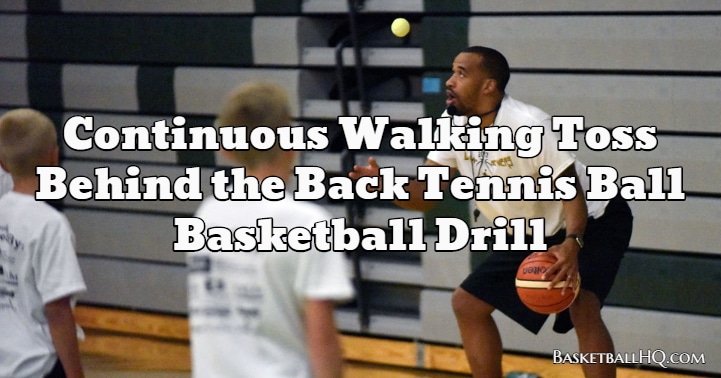 Young basketball players often look down at the basketball when they dribble it. They do this for two reasons; bad habits and they are not confident enough when dribbling. Tennis ball basketball dribbling drills are a great cure for this problem because they force the player to keep their eyes up to catch the tennis ball, and also, the repetitions of different moves build confidence in the player. The more a player can develop confidence with basketball drills like this, the more comfortable they will be during a game.
Basketball Drill Overview
Drill Name: Continuous Walking Toss Behind the Back Tennis Ball Basketball Drill
Equipment Needed: 1 basketball and 1 tennis ball.
Similar Basketball Drills and Resources
Goals of the Drill
Coaching Points
Give yourself a good toss and stay low on your move.
Basketball Drill Instructions
Begin on the baseline with a basketball in your right hand and a tennis ball in your other hand.
Toss the tennis ball up in the air to your right hand, and as you do, cross the ball behind your back.
Catch the tennis ball and then immediately repeat the behind the back move with your left hand.
Alternate back and forth all the way down the floor with no dribbles in between the move.
Once you get to the opposite baseline, you will come back, but this time you will do the drill going backward.