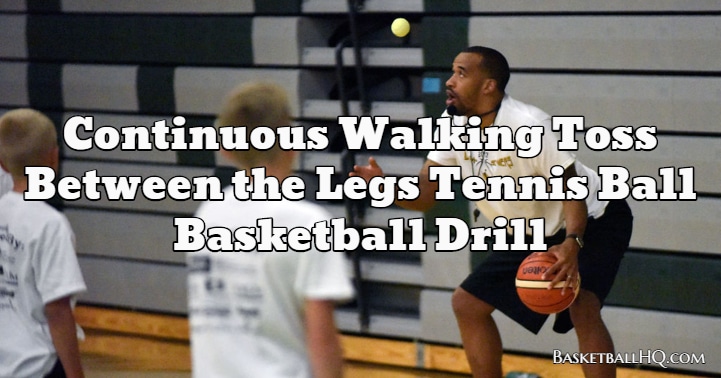 If you are busy looking down while you are making a move or cannot see the floor because you are so worried about the defender in front of you, you will miss open teammates, and the offense will suffer. Tennis ball basketball dribbling drills are great because they help you develop your ball handling, but they also help you learn how to do it with your eyes up the whole time.
You should be dribbling with your eyes up regardless of what basketball dribbling drill you do, but by adding a tennis ball, the player won't have the option to look down because they must use their eyes to catch the tennis ball each time.
Basketball Drill Overview
Drill Name: Continuous Walking Toss Between the Legs Tennis Ball Basketball Drill
Equipment Needed: 1 basketball and 1 tennis ball.
Similar Basketball Drills and Resources
Goals of the Drill
Learn how to dribble without looking down at the basketball and work on eye-hand coordination.
Coaching Points
Stay low as you dribble.
A big part of this basketball drill is focusing on a good toss when you throw the tennis ball up in the air.

The better your toss is, the easier it will be to complete the move and then catch the tennis ball.
Basketball Drill Instructions
Start on the baseline with a basketball in your right hand and a tennis ball in your left hand.
Begin walking forward and as you do, cross the ball over to your left hand between your legs and toss the tennis ball up in the air from your left hand to your right.
Continue crossing the ball between your legs and tossing the tennis ball back and forth between your hands all the way down the floor with no pound dribbles in between, just between the legs crossovers.
Once you get to the opposite baseline, begin walking backward, doing the same thing till you reach the original starting baseline.