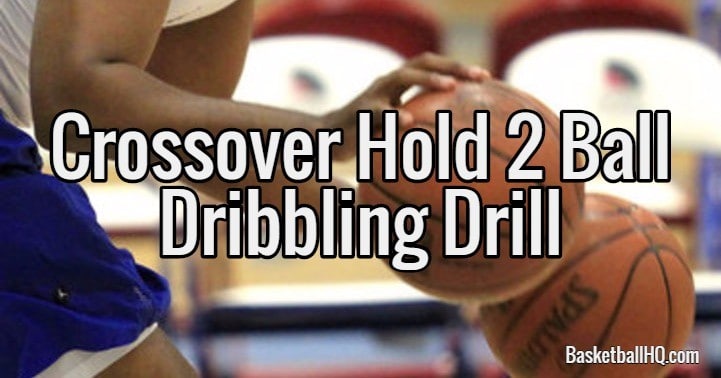 When making a basketball dribbling move from hand to hand, you want to have quick hands. If you make a move, and your other hand is not there to receive the basketball, you will fumble it or turn it over. Great ball handlers can quickly transfer the ball from hand to hand and keep their defender off balance.
For the crossover hold two ball basketball dribbling drill, you are training your hands to be lightning-quick while at the same time working on the crossover move. This is also a great basketball drill for players to do that are not primary ball handlers as well because it helps to develop good hands for catching the ball in the post, finishing at the basket, etc.
Basketball Drill Overview
Drill Name: Crossover Hold Two Ball Basketball Dribbling Drill
Equipment Needed: 2 basketballs.
Similar Basketball Drills and Resources
Goals of the Drill
Work on quick hands and good touch.
Also, improve on the crossover move.
Coaching Points
Push yourself to go as fast as you can, and don't worry about making a mistake.
You want to get out of your comfort zone and challenge yourself to be a better ball handler.
Try to keep your eyes up and stay low.
Basketball Drill Instructions
Hold one basketball with your left hand against your stomach.
Cross the ball in your right hand over to your left hand, and while the ball is bouncing on the floor.
Put your right hand on the ball on your stomach while also taking your left hand off to receive the dribble.
Now cross the ball back over to your right hand and alternate your hands, so your left hand is back on the ball, touching your stomach.
Continue this back and forth motion for 30 seconds.