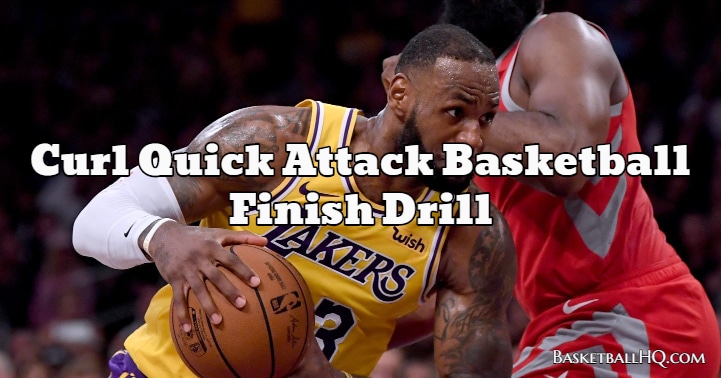 This is a great basketball finishing drill for practicing coming off a curl. Instead of shooting the ball, you will put it on the ground and finish at the basket. Because the big man will most likely be in the paint, you need to work on creative finishes around the basket. This is a really great move to have in your arsenal if the defense is locking and chasing on every down screen.
You must learn how to use down screens the right way and then read the defense to see what type of defense they are playing before deciding on what type of move you will use on the screen. Basketball drills like this are great for learning different types of moves to use off a pin-down screen.
Basketball Drill Overview
Drill Name: Curl Quick Attack Basketball Finish Drill
Equipment Needed: 1-2 Basketballs, 7 cones, and 1-2 partners.
Similar Basketball Drills and Resources
Goals of the Drill
Coaching Points
Set your man up each time before coming off the down screen.
Mix up your finishes and be creative.
Visualize the defender on you and also the big man stepping up to help.
Basketball Drill Instructions
Place 7 cones a couple of feet inside the 3 point line all the way around the arc.
Have the passer stand at the top of the key and the player coming off the screens under the basket.
The player will set his imaginary defender up, come off the first cone for a curl, catch the ball, take one dribble, and finish at the basket anyway they want.
Reset and then come off the next cone the same way.
After you curl the top cone, you will start on the opposite baseline cone and work your way up.
Do a total of 8 curls and finishes.