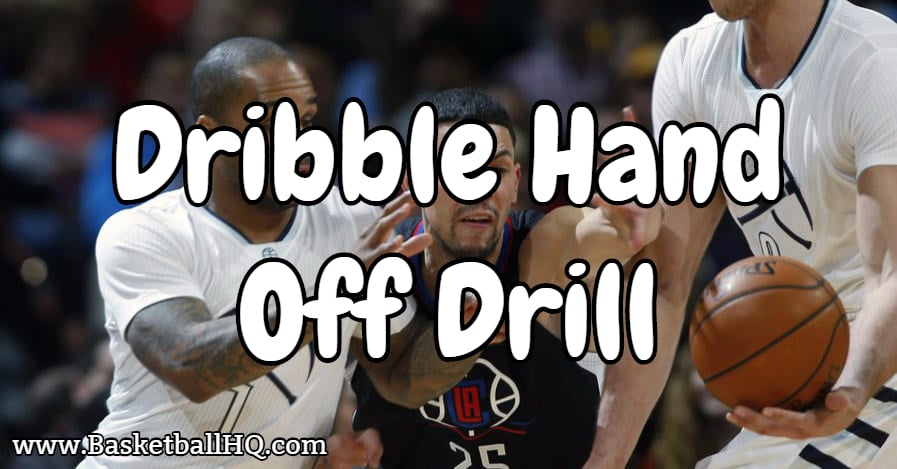 A great way to create offense and scoring opportunities is dribble penetration. Great dribble penetration forces the defense to suck in and help or give up a finish at the basket. This opens up drive and kick opportunities. Another great way to facilitate offensive movement off of the drive is handoffs. They are similar to a ball screen action, but instead, the screener will start with the ball.
This team basketball drill is great for working on dribble penetration and handoffs. It will allow your team to really understand what they are looking to accomplish with penetration and allow them to get a lot of repetitions at it. It is a great basketball drill to use for small group workouts and a full team practice.
Basketball Drill Overview
Drill Name: Dribble Hand Off Basketball Drill
Equipment Needed: 1 basketball and 4 players.
Similar Basketball Drills and Resources
Goals of the Drill
Work on penetrating and kicking and dribble handoffs.
Coaching Points
Get your shoulders to the rim when you drive the ball.

You must make the defense think that you are attacking the basket.

Put the ball in the player's stomach when you hand it off.
The player receiving the handoff needs to set up the imaginary defender before getting the handoff.
Basketball Drill Instructions
There is going to be a player in each corner and on each wing.
The player on the right-wing will start with the ball.
When the drill starts the player is going to dribble drive to the player in the right corner and hand the ball off (the corner player is going to be slightly filling up as well).
As soon as the player receives the handoff, they are going to dribble drive to the paint, jump stop, and then kick the ball out to the opposite wing player.
When that player catches the ball they will dribble-drive at the corner player repeating the action on that side of the court.
Continue this action for the desired amount of time or repetitions.