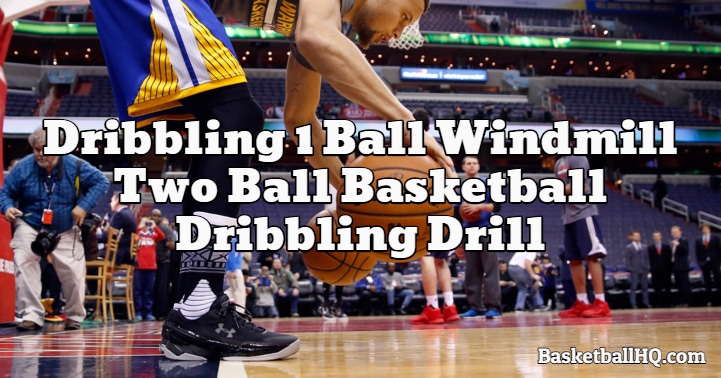 This is a challenging basketball dribbling drill because you have to concentrate on doing two different things simultaneously. With one hand, you are dribbling the basketball regularly, but with the other, you are using a wrap-around motion to go around your leg. Basketball drills like this are really good for working on a player's hands, and also their hand-eye coordination.
The goal of two ball basketball dribbling drills is to maximize time by working on both hands simultaneously and making the drill harder than it would be with only one basketball. The idea behind it is that if the player can do a move with two basketballs in practice, then it should be a lot easier for them to do the same move with only one basketball in a game situation.
Basketball Drill Overview
Drill Name: Dribbling 1 Ball Windmill Two Ball Basketball Dribbling Drill
Equipment Needed: 2 basketballs.
Similar Basketball Drills and Resources
Goals of the Drill
Improve ball handling, teach reverse between the legs dribble
Coaching Points
Work on the timing of the basketballs being dribbled through the legs.
Basketball Drill Instructions
The Player will stand in an athletic position and dribbles 2 basketballs at once.
1 of the basketballs is dribbled in front of the player's body in a stationary up and down pound dribble at about knee height.
In contrast, the other basketball is dribbled in a windmill motion, "scooping" the ball behind the player's body and then dribbling through the legs from the back.