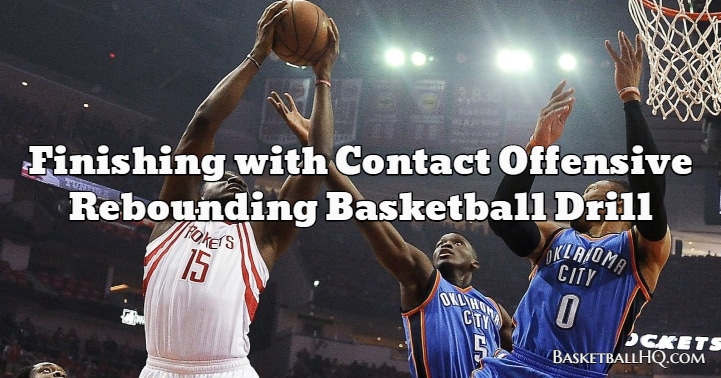 Being able to finish around the basket through contact takes practice. You have to learn how to absorb the contact and finish despite getting bumped or bodied; this is especially true when getting an offensive rebound. This type of basketball rebounding drill will work on getting an offensive rebounding and then finishing with contact around the basket. The pad will simulate the defensive player pushing up against you and even maybe fouling you some on the finish. You must learn to be strong with the basketball and learn the proper footwork to finishing around the basket, and this basketball drill will help with that.
Basketball Drill Overview
Drill Name: Finishing with Contact Offensive Rebounding Basketball Drill
Equipment Needed: 1 basketball and 2 partners (one partner with a pad).
Similar Basketball Drills and Resources
Goals of the Drill
Work on offensive rebounding and then finishing with contact around the basket.
Coaching Points
Be strong with the basketball and also have a strong base with your feet.
Don't avoid the contact but learn to finish through the contact.
Pivot and get your shoulders squared to the basket before finishing.
Depending on the level of the player, the coach can determine how hard they hit the player with the pad.
Basketball Drill Instructions
The line of players is going to be at the free-throw line back towards half-court.
One coach/partner will have a basketball at either elbow, and the other will be in front of the basket with a pad.
The coach will throw the ball up off the rim/backboard, and the player must go get the offensive rebound.
Once the player gets the rebound, the coach with the pad will start pushing the player with the basketball and then must finish at the basket without traveling.
The player will keep going until he/she scores the basketball.
If they miss, they continue to offensive rebound until they make it.