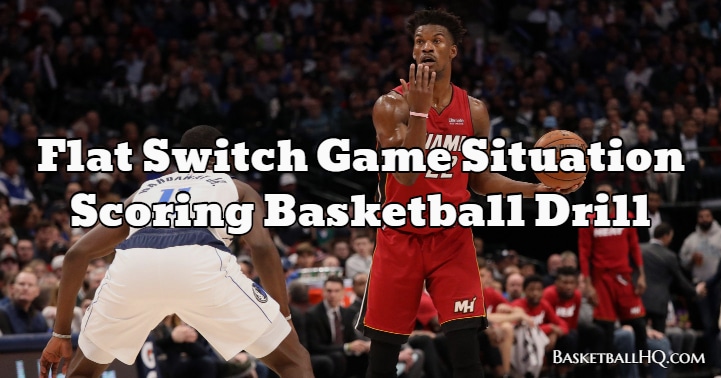 Great offensive players in basketball can score in a variety of different ways. They are also able to do a great job of scoring within the offense. Whether it is with a ball screen, a down screen, spacing to the right spot on the floor, etc., they can find quality shots within the team's offensive flow.
This combination basketball shooting drill will highlight a couple of these key scoring opportunities and allow the player to get quality repetitions at each move. It is also a great drill for teaching players to think while they play because this basketball drill will force the player to stay mentally engaged the whole time. You can also turn this into a conditioning drill as well.
Basketball Drill Overview
Drill Name: Flat Switch Game Situation Scoring Basketball Drill
Equipment Needed: 2 basketballs, 2 partners, and a cone or chair.
Similar Basketball Drills and Resources
Goals of the Drill
Work on scoring in the offense and making game moves.
Coaching Points
Stay locked in on form and fundamentals as you go through this basketball shooting drill, don't practice any bad habits.
Value every shot that you shoot, especially as you start to get tired.
The player should be calling out their cut every time.
Basketball Drill Instructions
Set up a cone on the right-wing, have one partner at the cone to simulate a flat switch, and the other partner ready to rebound.
The player is going to start towards the middle of the floor with the ball.
When the drill starts, the player will attack the cone and use it as a ball screen.
The partner will flat switch onto the player for token defense and then let them shoot a pull-up jump shot.
After that, the player will jog down to the paint, where they will set up their imaginary defender before coming out to the wing for a straight cut 3 point shot.
For the last shot of the sequence, the player will drift down to the corner for the catch and shoot shot from the 3-point line.
After this shot, the next player in line will go, or the same player will reset and start the drill over.
Complete the sequence 3-5 times and then switch sides of the floor.