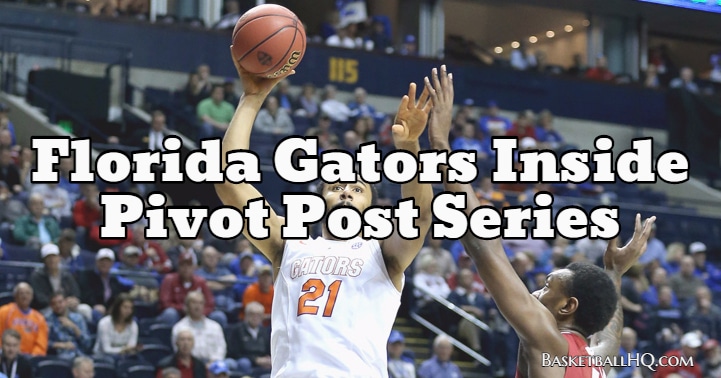 In today's game of basketball, it is important that post players are not only able to play inside by the basket but also be able to handle the basketball. A post player who can take a couple of separation dribbles after a rebound to outlet the ball up the court or can help bring the ball up the court against a press can add a lot of value to a team.
This post-move basketball drill from the Florida Gators is going to combine ball-handling and finishing in the post. It is a great basketball drill to use in a one on one/small group workout or with an entire team.
Basketball Drill Overview
Drill Name: Florida Gators Inside Pivot Basketball Post Series
Equipment Needed: 2 basketballs, cone/chair, passer, and a rebounder.
Similar Basketball Drills and Resources
Goals of the Drill
Work on ball handling and finishing in the post.
Coaching Points
Stay low and athletic on your dribble move and snap your pass.
Make sure that you hold your pivot foot and really sell your jab step move.
Basketball Drill Instructions
The player is going to start on the right-wing, and the passer will be on the left.
Set up a chair/cone halfway up the right lane line between the player and the passer.
When the drill starts, the player will attack the cone/chair and make an attack move (you can choose the move).
After the player pushes the dribble past the chair/cone, they will snap a chest pass to the passer on the wing.
The player will then post up on the block, receive an entry pass, inside pivot, and then shoot.
The player will immediately repost for another entry pass where the player will inside pivot, jab step to the baseline, and then attack to the middle for a finish.
This completes one time through the drill.
The next player in line will go, or the player will repeat the drill.
Once you get the desired amount of repetitions, switch sides of the floor, and repeat the drill.