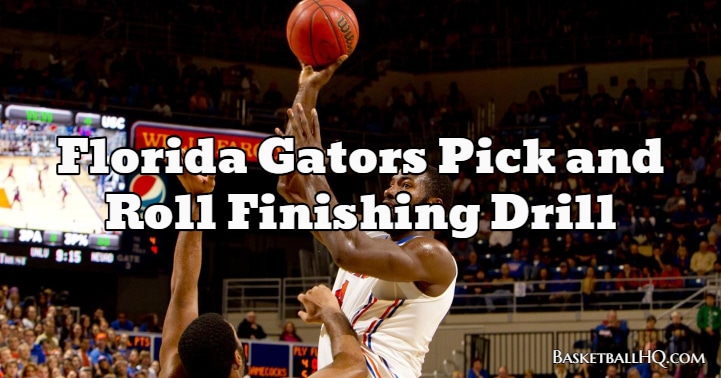 This Florida Gators drill will work on four different moves that you can use out of the middle pick and roll action. Executing all of these different moves in this basketball drill will allow the post player to read the defense and choose the correct move on the catch, rather than just blindly using the same move every time.
This is a really great basketball post move drill that you can use in small group training or with your team when post and guards split up to work on different position-specific skills. If you use a lot of ball screens in your offense or a looking to develop a post player, this is a great basketball drill to use.
Basketball Drill Overview
Drill Name: Florida Gators Middle Pick and Roll Basketball Finishing Drill
Equipment Needed: 1 basketball and a partner.
Similar Basketball Drills and Resources
Goals of the Drill
Coaching Points
Catch the ball under control and with a nice soft touch.
Make game speed moves so that you can get used to finishing at game speed.
Get your eyes around quickly to locate the ball on the lob plays.
Basketball Drill Instructions
The player will start at the top of the key in ball-screen position, and the coach/partner is going to come off the ball screen. As they do, the player is going to roll. There will be four different actions that the player will work on out of the roll.
Pocket Pass: As soon as the player rolls, they will receive a pocket pass for a one-foot finish (no dribble).
Lob Pass Finish: As soon as the player rolls, they will get their eyes around and go straight to the basket. As they are attacking the basket, the passer will lob the ball over the top of the defense for an alley-oop finish.
Lob Pass Catch and Finish: This finish is similar to the previous finish, but it will simulate the player needing to catch the ball, land, and then go right up for the finish. This might be because the player gets a pass slightly off of the rim or feels more comfortable landing before finishing. Keep the ball high on the finish.
Pocket Pass Change Direction: This move will work on getting a pocket pass and then accounting for the help defense. The player will receive the pocket pass after the roll, attack, and then make a quick counter between the legs move before finishing on the other side of the basket.
Once you complete all of these moves for the desired amount of repetitions or time, switch directions of the roll and repeat.