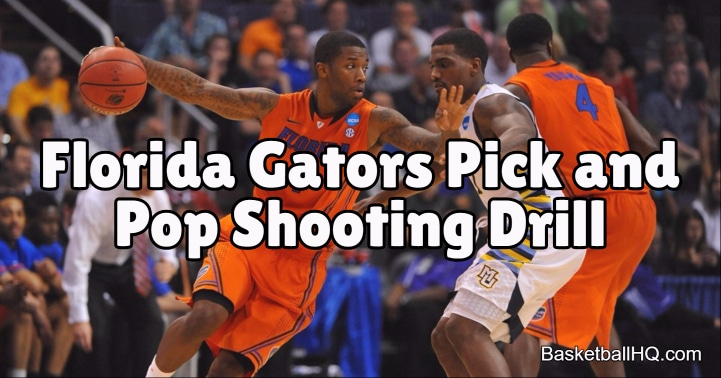 A great way to get quality shots as a post player is to set a great screen and then pop for an open shot. Setting a great screen forces the post defender to help on the ball handler, which opens up the shot for the post player.
This post-move basketball drill will allow for the post player(s) to get up a lot of quality repetitions in a short period of time. You can do this drill in a one on one workout or with a group of post players because it is quick-paced and allows for quality reps at a high pace.
Basketball Drill Overview
Drill Name: Florida Gators Pick and Pop Basketball Shooting Drill
Equipment Needed: 2 basketball and 2 helpers.
Similar Basketball Drills and Resources
Goals of the Drill
Work on setting a screen and then spacing for an open shot.
Coaching Points
Set a low, wide when you set the screen and set it with a good angle for the ball handler to come off of.
Drop the top foot to open up to the ball when you space, and look to create as much space as possible before the shot.
Basketball Drill Instructions
The passer will start on the wing with one of the balls and the rebounder under the basket with the other.
The player (or first player in line) will start at the elbow closest to the passer.
When the drill starts, the player will sprint over to a wing ball screen, the passer will dribble off the screen, and as they are doing this, the player will pop towards the baseline for a shot.
After this shot, the player will fill up to the elbow for a catch and shoot shot.
At this point, the player will repeat the same pattern of shots, or the next player in line will go.
Usually, this basketball drill is done for a certain amount of makes, but it can also be done for reps or a set amount of time.