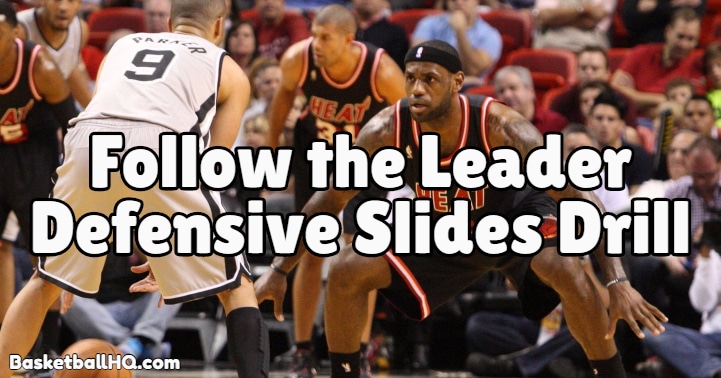 Championship teams are also great defensive teams, and a big part of being a good defensive team is knowing that each player can individually move their feet and guard their man/woman. So it is important to spend time working on the fundamentals of being able to slide your feet and quickly change directions as a defender. If your team can keep the ball out of the paint, you will have a good chance of winning.
This defensive basketball drill will allow your players to work on their defensive slides in a competitive environment. It is a great basketball drill to get players out of their comfort zone and work on getting better against each other.
Basketball Drill Overview
Drill Name: Follow the Leader Defensive Slides Basketball Drill
Equipment Needed: 2 players and 1 basketball per player.
Similar Basketball Drills and Resources
Goals of the Drill
Coaching Points
Keep your butt down and stay in an athletic stance the whole time.
Don't allow yourself to cross your feet over.
Basketball Drill Instructions
Each basketball player will start with a basketball in front of their feet and face each other about 5 feet apart.
One of the players will be the leader, and the other follower must do their best to mirror the leader.
When the drill starts, the leader will defensive slide to their right or left, and the follower must follow them.
At any time, the leader can change directions.
The leader is looking to shake the follower, and the follower is looking to mirror the leader.
The distance that the leader is allowed to use is roughly 20 feet.
If there are volleyball lines on the court, they can be used for the boundaries.