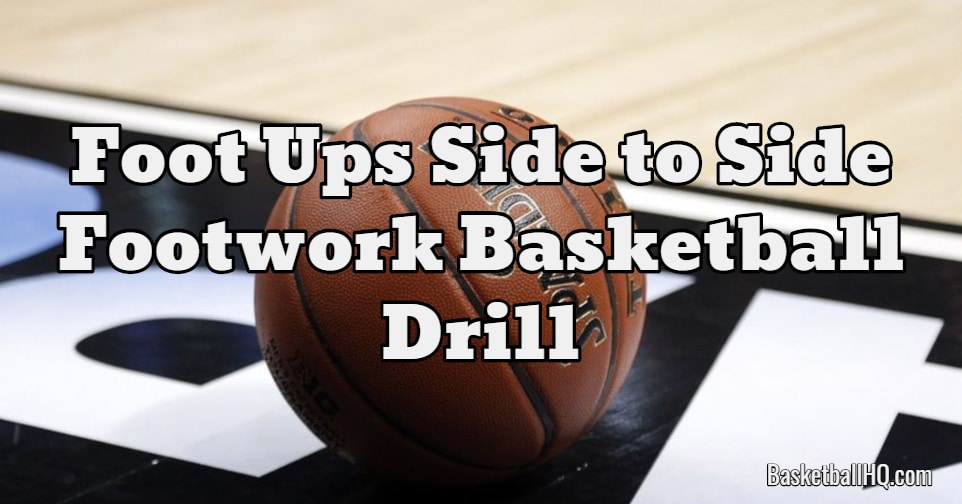 Every basketball player should work on their footwork, regardless of what position they play. If you have bad footwork you will suffer in a lot of different areas on the floor. It will be hard for you to guard your man, as well as shoot on the move, and so much more. Big men will have trouble posting and finishing at the basket without good footwork.
However, with great footwork, you will be able to build a strong foundation for all of these different skills and be on your way to mastering them. The foot ups side to side footwork drill is going to teach the player to be light and quick on their feet. This footwork and agility workout draws a lot from the sport of soccer (European football).
Drill Name: Foot Ups Side to Side Footwork Basketball Drill
Similar Drills: Foot Ups Footwork Basketball Drill, Foot Ups  Forward and Backwards Footwork Basketball Drill, Foot Ups Around the World Footwork Basketball Drill
Drill Goal: Improve your footwork and your agility. Learn to be light on your feet.
Equipment Needed: 1 basketball.
Drill Tips: Don't let your heels touch the ground and stay light on your feet. Do your best to stay straight up and down.
Drill Directions: Start with your feet spread and the basketball in between your feet. Put your right foot up on the ball. Take your right foot off the ball and at the same time bring your left foot up on the ball. Repeat this side to side motion back and forth at a jogging pace. Go for about 10 seconds and then turn it up to a sprint pace for 10 seconds. Alternate back and forth between jog and sprint speed for 30-60 seconds. You can also have a coach say when to change speeds.