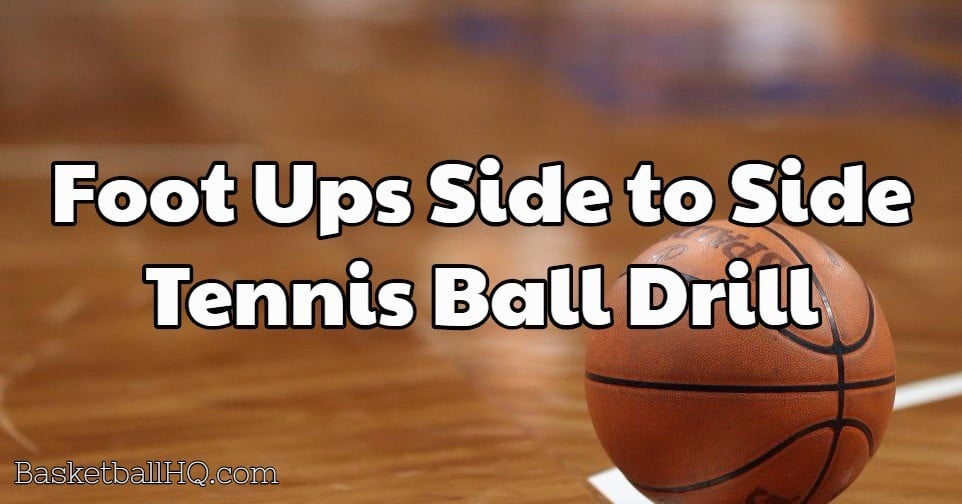 The better your footwork and hand-eye coordination are, the better you will be able to execute different moves during the course of a game. This basketball workout is going to work on both footwork and hand-eye coordination at the same time. It is more of an advanced drill, but it is perfect for developing a player's coordination.
This type of basketball footwork and agility drill is great for both guards and post players but primarily geared towards helping post players develop their footwork and catch a pass with soft hands.
Basketball Drill Overview
Drill Name: Foot Ups Side to Side Tennis Ball Basketball Drill
Equipment Needed: 1 Basketball, 1-2 tennis balls, and 1 partner.
Similar Basketball Drills and Resources
Goals of the Drill
Work on developing footwork and hand-eye coordination.
Coaching Points
Stay light on your feet, and don't let your heels touch the ground.
Toss the tennis ball back underhand to the passer.
Basketball Drill Instructions
The player will start with a basketball at their feet, and the partner will face them with 1-2 tennis balls about 4-5 feet away.
When the basketball drill starts, the player will start touching the basketball back and forth side to side with their feet.
After a few seconds, the partner will start tossing tennis balls to the player while executing the correct footwork on the basketball.
The player must catch and then toss the tennis balls underhand back to the passer.
Continue this pattern for 30-45 seconds and then rest.