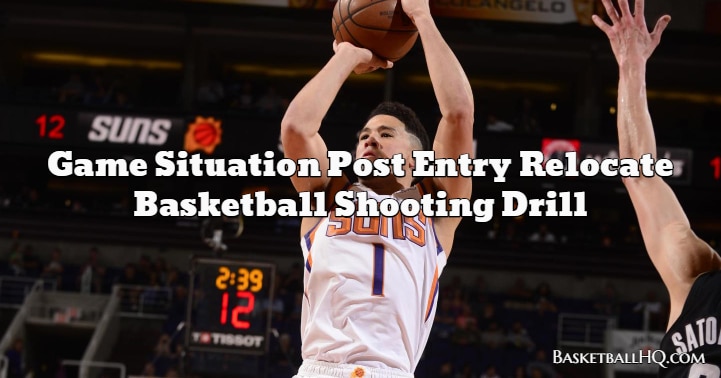 Game situation basketball drills are designed for practicing a specific action that a player will use in a game. It is not about working on conditioning, but specifically working on one type of game movement. As much as this is a catch and shoot basketball shooting drill, it will also be a drill that will teach players to recognize a specific situation in a game and then capitalize on it.
For this basketball shooting drill, you will work on feeding the post and then relocating once your defender turns their back to you. This is an action that should happen every game, and you need to be prepared for it. Another great thing about basketball drills like this is that they will help reinforce good habits for the player. Even if the player doesn't get the shot, they still need to move and not stand and watch.
Basketball Drill Overview
Drill Name: Game Situation Post Entry Relocate Basketball Shooting Drill
Equipment Needed: 2 Basketballs and 2 Partners.
Similar Basketball Drills and Resources
Goals of the Drill
Coaching Points
When you relocate, slide with your chest still facing the post.
Be down ready to shoot the basketball when it comes back out to you.
Make a good post feed so you can practice your passing as well.
Basketball Drill Instructions
The player will start with the basketball on either wing, and the coach/partner will be on the block posting up.
The player will make a post feed and then relocated up or down the 3 point line for a kick out 3 point shot.
Reset after each shot.