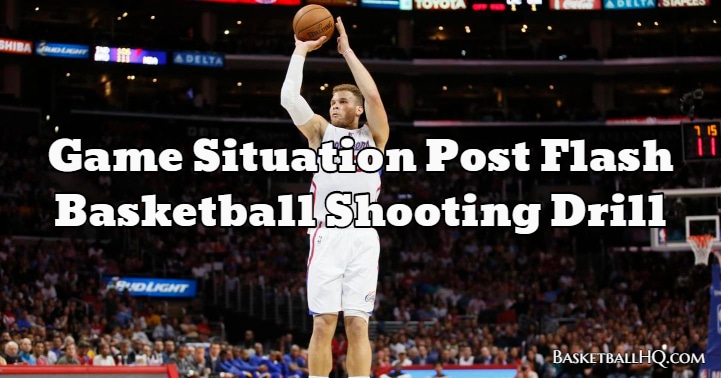 There are specific shots and moves that you are going to use during the course of a basketball game. This basketball drill represents a game situation shot that you will use during the course of a game, and the goal is to get the player a lot of reps at this particular shot. That way, they are comfortable shooting it in a game.
Shooting a regular catch and shoot basketball shot from the free-throw line has a different feel than shooting a post flash shot. That is why you need to practice flashing up for the shot at game speed. You will probably use this shot when playing against a 2-3 zone defense, or if the opposite post decides to flash to the high post and their man is a few steps behind. Post players can add a lot of value to their game with the basketball shooting drill and being able to consistently knock down this type of shot.
Basketball Drill Overview
Drill Name: Game Situation Post Flash Basketball Shooting Drill
Equipment Needed: 1 basketball per player and 1 partner.
Similar Basketball Drills and Resources
Goals of the Drill
Practice shooting a post flash jump shot.
Coaching Points
Mix up shooting it right away and facing up before shooting.
Really focus on the proper footwork and jump straight up and down on the shot.
Hold your follow-through and stay in your shot.
Show your hands as you flash to the basketball.
Basketball Drill Instructions
Players will each start with a basketball on the opposite block of the passer.
They will pass the basketball to the passer and then flash right to the free-throw line for a shot.
After they shoot, they will get their own shot and get back in line.
** If you have a rebounder, the shooters do not need to have their own basketball and can get right back in line after they shoot.