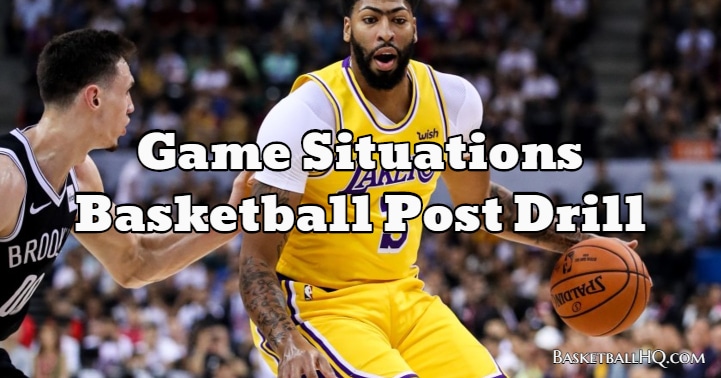 Often, post players are very reliant on guards to give them the ball in places they can score. Whether it is a post up, drive and kick, screen and pop, etc. post players usually need guards to get them the ball where they are comfortable.
This basketball post move drill will work on different actions involving guards feeding the post player the ball for a shot or finish. They are all shots/finishes that a post player will potentially get during the course of a game. This is a great basketball drill to use in individual training with your post players. It will not only teach them specific moves to use, but it will also help them learn to be able to think during the course of a game and recognize spots on the floor where they can get a great shot.
Basketball Drill Overview
Drill Name: Game Situations Basketball Post Drill
Equipment Needed: 2 basketballs and 2 partners.
Similar Basketball Drills and Resources
Goals of the Drill
Recognize and work on different scoring moves within the natural flow of a game.
Coaching Points
Do your best to visualize the defense on every move and think as you are doing the move.
Footwork is essential for all of these moves, so make sure that you are executing the drill with the proper footwork.
You can adjust the drill some if needed.
Basketball Drill Instructions
The player will get 3 different shots/finishes in the same order every time, and they are going to go through the sequence 5 times for a total of 15 shots.
When the drill starts, the player will be on the right block in post-up position.
The ball will be driven from the wing by one of the partners towards the baseline.
As the ball is being driven, the post player will circle around for a shot.
After that shot, the player will immediately sprint to the lane line for a ball screen and roll from the other partner.
For the last shot, the player will touch the left block and then fill up to the top of the key for a fill-up catch and shoot shot.
Repeat this 3 shot sequence until the 15 shots are reached, and then switch sides.