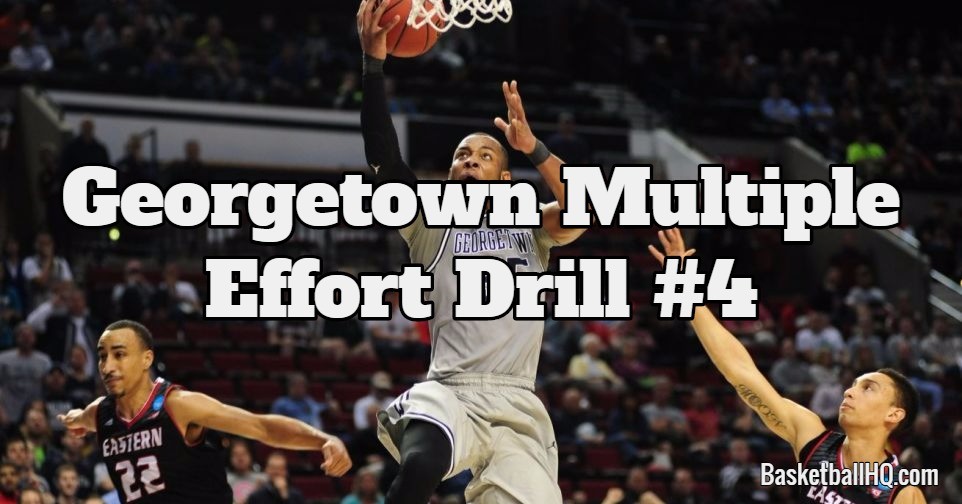 If your team strategy is to play fast and then look to get up in passing lanes and create full-court pressure, this is a great basketball drill for you. This combination basketball shooting drill will teach the player to score in transition and then immediately get into a defensive mindset with active hands and high intensity.
It will also teach the player to transition back and forth between offense and defense multiple times. This is really good for teaching the player to mentally be thinking about defense as soon as they finish an offensive possession. Use this basketball shooting drill also for conditioning and staying mentally engaged when fatigued.
Basketball Drill Overview
Drill Name: Georgetown Multiple Effort Basketball Drill #4
Equipment Needed: 3 basketball, 3 chairs, and 1-2 rebounders.
Similar Basketball Drills and Resources
Goals of the Drill
Work scoring, jumping into defense, and then turning turnovers into quick baskets.
Coaching Points
Play fast but don't rush your shot; make sure you are practicing good basketball shooting mechanics on every shot.
The passer needs to throw the outlet pass where the player must work to get it.
Basketball Drill Instructions
Set up a chair on the left wing just outside the lane line, a chair on the right elbow, and a chair in the right corner.
Place a basketball in the chair on the right elbow.
The player is going to start at half court facing the chair on the left-wing.
When the drill starts, the player will attack the chair and make a dribble move past the chair for an athletic finish at the basket.
After they finish, they will immediately sprint back and steal the outlet pass that the rebounder throws out to half court.
On the steal, they will attack down the middle for a pull-up jump shot.
Once they shoot the shot, they will come down to the right block, closeout to the chair in the corner, defensive slide to the right elbow, take the ball out of the chair, and shoot a mid-range shot.
Then they will sprint back out to the half-court line for a final steal.
This completes one time through the drill.