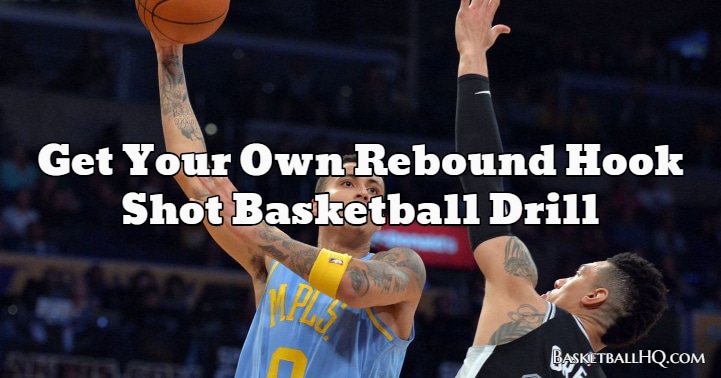 The get your own rebound hook shot basketball drill is designed to simulate a big man getting an offensive rebound and then going right back up with a hook shot finish. Not only will this basketball drill teach the player the right fundamentals for rebounding and shooting the hook shot, but it will allow for a lot of reps and muscle memory development.
It is important that the player pushes themselves and gets up as high as they can each time on the rebound, don't wait for the ball to come down. If they wait for the ball to come to them in a game, it might get tipped out or rebounded by another player. Positioning is just the first step. The player still needs to release to grab the board at its highest point. Along with rebounding, this drill will help develop a soft touch around the basket, which will really help with finishing. This is one of the better basketball rebounding drills to add to your training time because it works on so many different things simultaneously.
Basketball Drill Overview
Drill Name: Get Your Own Rebound Hook Shot Basketball Drill
Equipment Needed: 1 basketball and a partner.
Similar Basketball Drills and Resources
Goals of the Drill
Work on offensive rebounding and finishing with the hook shot around the basket.
Coaching Points
Don't wait for the ball to drop down to you on the rebound, but go up and get it at its highest point.
Keep your body in between the ball and the imaginary defender on the hook shot.
Don't bring the ball down after the rebound but chin it and keep your hands strong on the ball.
Basketball Drill Instructions
The post player will start on either block, and the partner will start with the ball under the basket.
When the drill starts, the partner will slam the ball against the ground in the center of the paint, and the player must rotate off the block, jump up to grab the ball, and then chin it (their chest should be facing the opposite block).
As soon as they chin it, they are going to go right up into a hook shot.
After they shoot the hook shot, they will go to the opposite block and then repeat.
You can do the drill for a certain amount of time, shots, or makes.