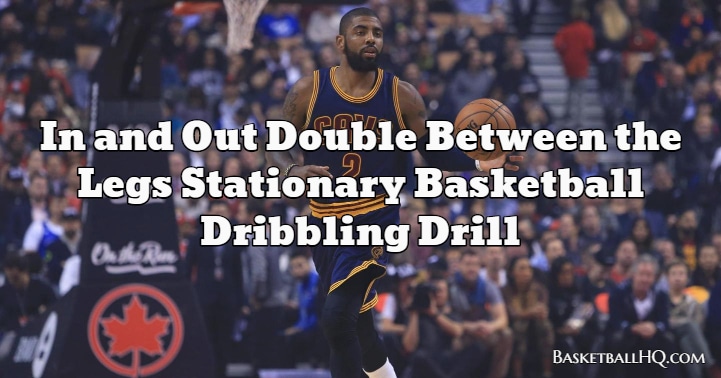 This is a great basketball stationary dribbling drill that you can do almost anywhere because all you need is a flat surface and a basketball. The drill will work on a specific combo move, but it will also work on your overall handles as well. Being able to dribble the basketball back and forth from hand to quickly and effectively will allow you to breakdown the defender in front of you, but it will also help prevent turnovers.
The in and out double between the legs dribbling video will be instructed by a professional basketball coach and demonstrated by a high-level basketball player. Make sure that you watch what the player is doing, and then try to do this basketball drill the same way. A big key to all of our basketball dribbling drills is pushing yourself and not worrying about messing up on the dribble. Your goal should be to handle the basketball so fast and hard that you end up losing it. That way, when you get in a game and slow back down to game speed, you will be completely comfortable handling the ball.
Basketball Drill Overview
Drill Name: In and Out Double Between the Legs Stationary Basketball Dribbling Drill
Equipment Needed: 1 basketball.
Similar Basketball Drills and Resources
Goals of the Drill
Develop your handles and work on your combo moves as well.
Coaching Points
Stay in a low dribble stance the whole time and keep your eyes up.
Don't be afraid to lose the ball because you are going too hard.
Push yourself and get outside of your comfort zone.
Basketball Drill Instructions
The player will start with a basketball in their right hand.
They will make an in and out move, followed immediately by a double between the legs move (scissors).
The player will continue this pattern as quickly as possible for 20-30 seconds and then switch which hand starts the move and repeat.