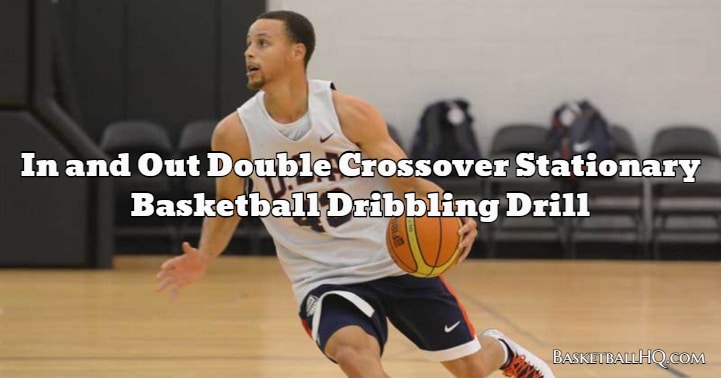 This stationary basketball dribbling drill will not only work on your handles, but it is also going to work on a specific combo move that you can use to break down your defender. The goal of the drill is to do the move as quickly and as hard as you can; it is okay if you mess up and lose the ball. You want to get out of your comfort zone and push yourself to a new level. If you push yourself as hard as you can during the basketball dribbling drill, you will be much more comfortable using it when you get in a game and do the move.
Since this is a stationary ball-handling basketball drill, you can do it pretty much anywhere you have a flat surface. So whether it is in your garage or back porch, there is no longer the excuse for not having a place to work on your ball handling. This basketball training video will show you how to do the move and give you some tips for improving your ball handling.
Basketball Drill Overview
Drill Name: In and Out Double Crossover Stationary Basketball Dribbling Drill
Equipment Needed: 1 basketball.
Similar Basketball Drills and Resources
Goals of the Drill
Work on ball handling and selling the in and out double crossover move.
Coaching Points
Basketball Drill Instructions
The player will start with a basketball in their right hand and standing in an athletic dribbling stance.
Now the player will do an in and out dribble move, followed immediately by a double crossover.
Continue this in and out double crossover move for 20-30 seconds, and then switch the basketball to your left hand and repeat.