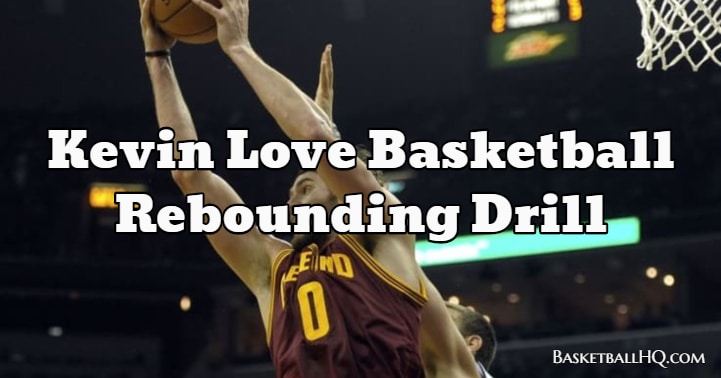 Kevin Love is one of the best rebounders in basketball, and it is not because he is bigger than everyone. He knows how to use his body when rebounding, and he competes for every board.
This basketball rebounding drill will help you become a better rebounder around the basket, teach you how to battle for every rebound. The Kevin Love basketball rebounding drill allows you to work on offensive rebounding and then finishing with contact around the basket.
Basketball Drill Overview
Drill Name: Kevin Love Basketball Rebounding Drill
Equipment Needed: 2 partners and a basketball.
Similar Basketball Drills and Resources
Goals of the Drill
Improve rebounding and finishing around the basket with contact.
Coaching Points
Grab the rebound with one arm while holding off the opponent; once you gather the rebound, finish as quickly as you can.
Basketball Drill Instructions
The coach will start with the ball on the left block.
To start this basketball drill, the coach will throw the ball up off the boards.
You must hold off your partner with your left arm and grab the rebound with your right hand.
As soon as you gather the ball, go back up strong with it and finish with your right hand.
Repeat for several reps and then rebound the ball, take one power dribble, and then finish with a reverse layup and your left hand.
The whole time your partner is grabbing you and fouling you to make you strong with the ball, don't try to hurt each other.