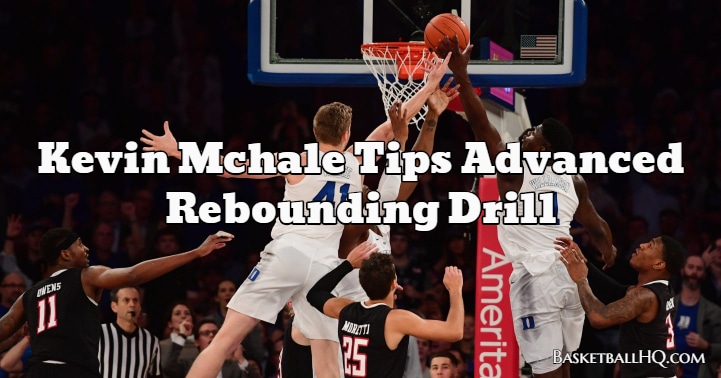 The Kevin Mchale tips advanced basketball rebounding drill will help the player work on their timing, finishing around the basket, and quick-jump ability. This basketball drill will help players get a lot of reps at controlling a tip-in with one hand, and the reason you practice with sometimes tipping the ball with only one hand is that in a game, you might not be able to use both hands. You might not have the angle to get both hands on the ball, or you might be holding off your opponent with the other hand.
It is key that you can tip the basketball in equally as well with both hands because you never know which hand the ball is going to come to off a rebound. This basketball rebounding drill will really help you to develop you develop both of your hands.
Basketball Drill Overview
Drill Name: Kevin Mchale Tips Advanced Rebounding Basketball Drill
Equipment Needed: 1 basketball.
Similar Basketball Drills and Resources
Goals of the Drill
Develop your hands, finish around the basket off an offensive tip-in, and your quick jump ability.
Coaching Points
Don't wait for the ball to come down to you but get up off the ground and go get the ball as high up as you can.
Land and then jump right back up as quickly as you can.
When you tip the ball over the top of the rim, put it high up on the glass so that it doesn't hit the rim.
Basketball Drill Instructions
The Player will start with a basketball to the right of the rim facing the backboard.
They will toss the ball up against the backboard and then jump up and tip it off the backboard with their outside hand.
At the same time, their inside hand is going to be trying to touch the rim.
The player is going to do 6 tips in a row, but on the 6th tip, they are going to tip the ball up off the backboard and over the rim to the other side where they must meet the ball and then begin tip the ball with their outside hand on that side of the rim.
On the 6th tip, they are going to go over the rim again for the final set of 6 tips, and on the very last tip, the player is going to tip dunk the ball in if they can or rebound, chin the ball, and then power finish if they can't tip-dunk it.
Start from the left side on the next set for this drill.