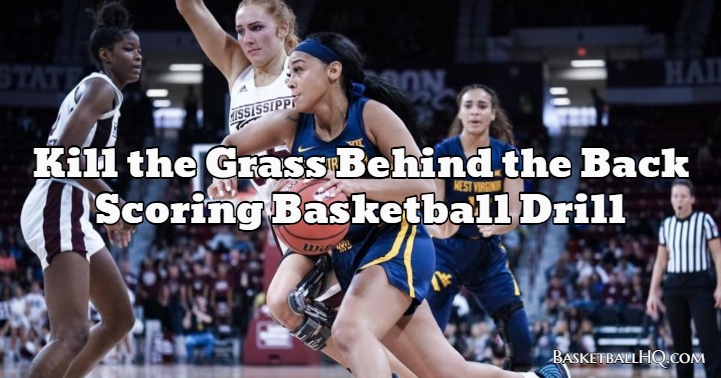 The first step to scoring off the dribble is learning to handle the basketball really well. If you are having to worry about dribbling the basketball, then there is no way you will be able to get into your shot and shoot with a high percentage. That is why for this basketball drill, you are going to work on ball handling and then getting into your shot off of the dribble. You need to be able to handle the basketball at a high level so that you can focus on making your shot and not on dribbling the ball.
The idea behind this combination basketball shooting drill is to have the player dribble the basketball as hard as possible. If they lose the ball, that is okay because they are getting out of their comfort zone and getting better. When they handle the ball in a game situation, their hands will be quicker, and it will be easy to dribble at game speed.
Basketball Drill Overview
Drill Name: Kill the Grass Behind the Back Scoring Basketball Drill
Equipment Needed: 1 basketball and a rebounder (optional).
Similar Basketball Drills and Resources
Goals of the Drill
Coaching Points
Pound the basketball on the dribble as hard as you can.
Keep your eyes up, and don't be afraid to mess up.
Go somewhere with your dribble on the one-dribble pull-up shot.
Basketball Drill Instructions
You are going to do two different moves for this drill, but you are going to do it going right and left, so really, there is a total of four different shots.
Before each shot, you will take 3-4 behind the back dribbles back and forth as hard as you can.
The first shot is going to be a right-hand pound dribble pull-up 3-pointer, the second shot will be a left-handed pound dribble pull-up 3-pointer, the third shot will be a right-handed one dribble mid-range pull-up shot, and the fourth shot will be left-handed one dribble mid-range pull-up shot.
You can do this basketball shooting drill from either wing or the top of the key.