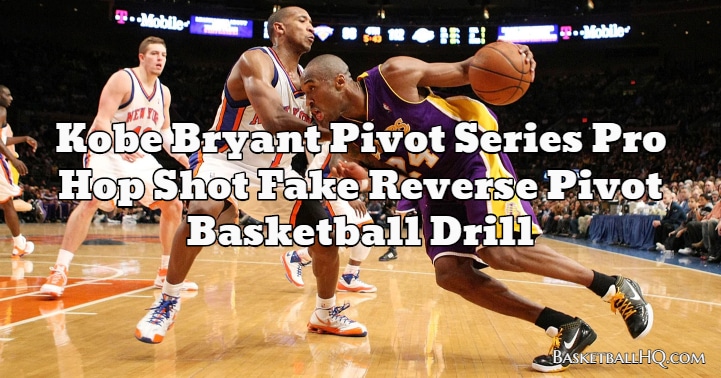 This basketball drill is all about using proper footwork and scoring out of the pivot series. It is called the Kobe Bryant pivot series because Kobe was one of the best players in the world at scoring with a pivot move. This is an advanced move but can be very effective if you are being guarded by an over-aggressive defender that likes to try and block shots.
It will also allow you to use a defender's aggressiveness against themselves because once you get that half step past them, they will be trying to get back in front of you, and they will lose track of their defensive fundamentals and overrun you when you make the pivot move. When first doing this basketball finishing drill, really focus on the correct footwork. So if that means executing it at half speed, that is okay.
Basketball Drill Overview
Drill Name: Kobe Bryant Pivot Series Pro Hop Shot Fake Reverse Pivot Basketball Drill
Equipment Needed: 1 basketball and a chair.
Similar Basketball Drills and Resources
Goals of the Drill
Coaching Points
Slow down the move after the shot fake and make sure that you do not travel.
After you reverse pivot, you must jump off both feet simultaneously, or it will be a travel.
Sell the shot fake with the ball, your eyes, and your body.
Basketball Drill Instructions
Set up a chair on either wing and have the line of players start 5-8 feet out behind the chair facing the basket.
The player will dribble at the chair and make a move to the outside, and then when they get closer to the basket, they will pro hop back to the paint.
Now the player will shot fake, reverse pivot, jump off both feet at the same time, and then finish with a layup.
Get your own rebound and get back in line.