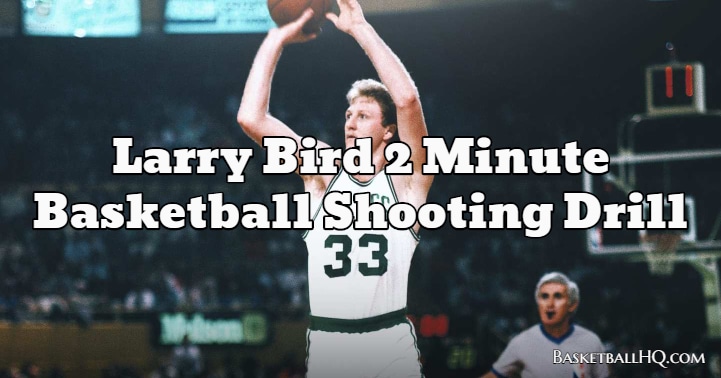 A good way to practice shooting under game pressure when doing basketball drills is to place pressure on the player to make a certain number of shots in a row or under a set amount of time. The Larry Bird 2 minute shooting drill is designed to do just that. It will also allow you to get a lot of catch and shoot shots in a short period of time, but it is also has a time challenge.
To put even more pressure on the shooter for this basketball shooting drill, you could place a penalty on the shooter if they don't get a certain number of makes in two minutes. Hopefully, all this will translate over to game situations and help the player develop mental toughness and a better shooter.
Basketball Drill Overview
Drill Name: Larry Bird 2 Minute Basketball Shooting Drill
Equipment Needed: 2 Basketballs and 2 partners.
Similar Basketball Drills and Resources
Goals of the Drill
Work on shooting under pressure and developing your catch and shoot shot.
Coaching Points
Don't rush your shot and stay in your shot till you miss or make.
Focus on proper shooting form, footwork, and follow through every time.
Don't get frustrated if you miss a shot.
Basketball Drill Instructions
The shooter will start in either corner, passer at the top of the key, and rebounder under the basket.
The shooter has 2 minutes to make 2 in a row from all 5 spots (corners, wings, and top of the key).
If the shooter makes 2 in a row from all 5 spots, they will use the rest of the time to try and make 10 shots from the top of the key.
To beat the drill, you must make all 10 from the top of the key before the 2 minutes runs out.