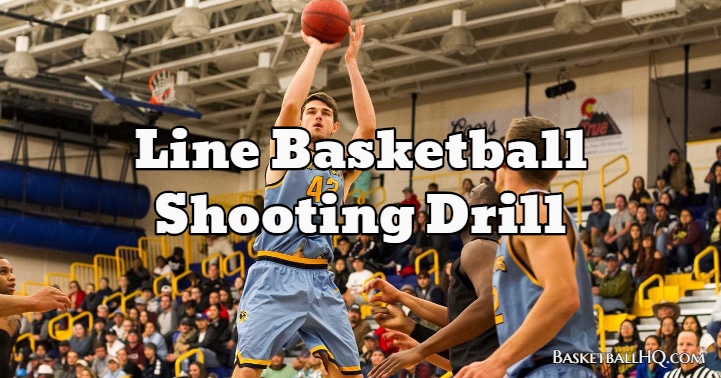 Becoming a great shooter in basketball requires you to train and practice shooting the basketball under game-like circumstances. This is a great basketball shooting drill to work on shooting on the move and shooting when you are fatigued. It is important to be able to hit shots even if you are a little bit winded or have just sprinted up and down the floor a couple of times. Along with this basketball drill being excellent for getting up quality shots, it will also be a conditioning drill if the player is going at a high-pace.
Basketball Drill Overview
Drill Name: Line Basketball Shooting Drill
Equipment Needed: 1 basketball and a partner.
Similar Basketball Drills and Resources
Goals of the Drill
Improve your shooting as well as your conditioning and shooting while you are tired.
Coaching Points
Go as hard as you can, and don't cheat yourself.
Stay in each shot, don't run off to the next shot before you have seen your shot go in or see it miss.
Basketball Drill Instructions
Start under the basket on the baseline.
Run to the free-throw line, turn around, receive the pass, and then take it in for a layup or dunk.
Touch the baseline again, run to half court, and then return for a shot at the free-throw line.
Touch the baseline again, run to the opposite free-throw line, and come back for a shot at the college 3 point line.
Touch the baseline again, run the full court, and then come back for a shot at the NBA 3 point line.
After you shoot the NBA 3 pointer, you are immediately going to back peddle to half court.
Catch the ball as you are coming in and score off of the dribble.
You can mix up how you finish at the basket; dunk, scoop shot, pull-up shot, etc.
The goal is to make all your shots and complete this drill 3 times (take a break between each time).