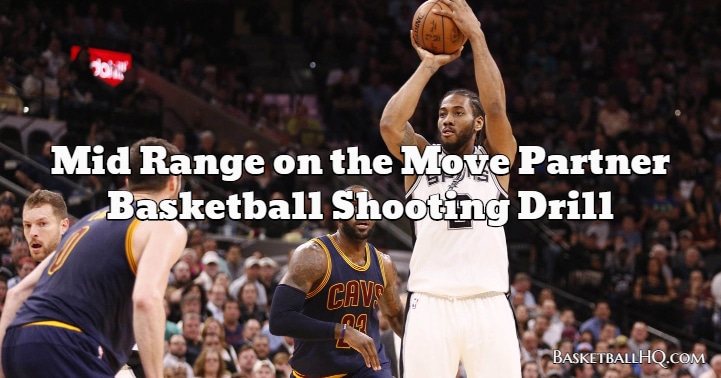 Partner basketball shooting drills are a great way to get up a lot of game-type shots in a short period of time. For this basketball drill, you are going to work on shooting on the move. You will only shoot mid-range shots, but as the ball is coming in your direction, you want to be moving either to your right or left.
This will help to simulate shooting on the move in a game. Also, shooting with a good partner will help you stay motivated and challenge you, especially if you make the drill a competition between the players and keep track of the makes. You can even implement a punishment for the loser of this catch and shoot basketball shooting drill to make the stakes higher.
Basketball Drill Overview
Drill Name: Mid Range on the Move Partner Basketball Shooting Drill
Equipment Needed: 1-3 Basketballs and 1-3 partners.
Similar Basketball Drills and Resources
Goals of the Drill
Learn to shoot better on the move and get up lots of shots.
Coaching Points
You are always going to have one less basketball in the group than partners.
Pass with your weak hand each time so that you can work on your passing as well.
Even though you are moving before the ball gets to you, don't drift on the actual shot.
Jump straight up and down and hold your follow-through on the shot.
Basketball Drill Instructions
There will only be two players in the group for these directions, but this drill can be done with up to four players in a group.
Both players are going to be in the mid-range area.
One player will start with the basketball, and the other will start moving to their right or left, down ready to shoot.
The player with the ball will pass to the other moving player, and when they catch it, they will shoot a mid-range jump shot.
After shooting the basketball, they will track down the ball and hit the other player that will be moving to the right or left for a shot.
Now relocate and get ready for the next shot.
You can do this drill for a set time, shots, or makes.
** If there are more than 2 players, just hit the open shooter after getting the rebound.