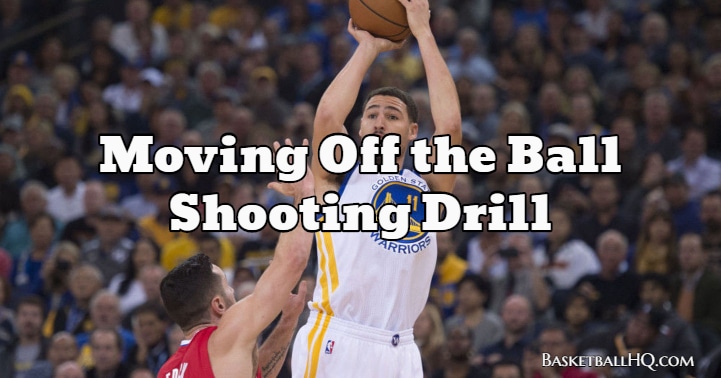 This is a great basketball shooting drill for wing players and shooters who move without the ball to find open shots. It will allow the player to work on multiple types of cuts and shots, all in the same basketball drill.
It is important to spend time working on all of the different types of cuts and shots that you will come across during a game because it will be different footwork for each shot. The better footwork that you have coming into your shot, the higher the percentage you will shoot. You don't want to be shooting off-balanced, rushed shots. So as you are going through this catch and shoot basketball shooting drill, really lock in on the different footwork for each type of shot that you shoot.
Basketball Drill Overview
Drill Name: Moving Off the Ball Basketball Shooting Drill
Equipment Needed: 2 basketballs and 2 partners.
Similar Basketball Drills and Resources
Goals of the Drill
Work on different types of shots off the ball and coming into them with the correct footwork.
Coaching Points
Really lock in on the correct footwork for each shot and make sure that you are balanced on each shot.
Stay in your shot until you make or miss, don't run off to the next shot early.
Basketball Drill Instructions
The player will start on the block and will shoot a total of 6 catch and shoot shots in this order:

1. Fill out to the wing fade cut.
2. Start from the corner J cut to the elbow shot.
3. Start on the block straight out to the wing shot.
4. From the wing, drift to the corner shot.
5. From the corner, fill up off a stagger shot at the top of the key.
6. From the top of the key, finish with a flare shot on the wing.

This sequence can be repeated with or without a break in between and can be done as many times as you want, usually 4-5 times, though.
Don't allow yourself to practice bad habits, though, as you get tired.
Repeat the same sequence on the other side of the floor.