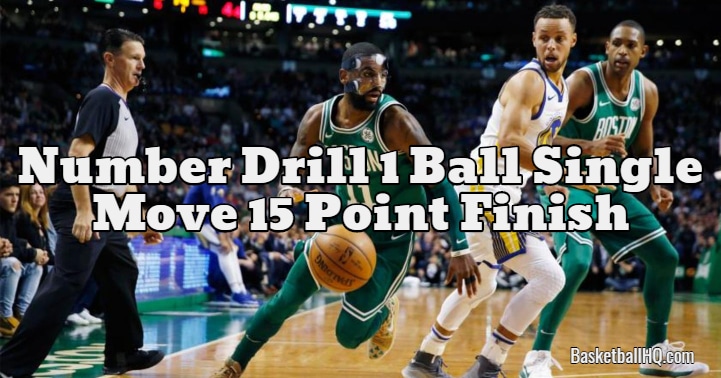 This combination basketball shooting drill is a little bit more complicated, but it works on several different skills simultaneously. The number drill incorporates ball handling, thinking, shooting, and conditioning, all in the same drill. You want to be a complete player that can think when tired and still be skilled.
When a player starts to get tired at the end of a game, their discipline starts to break down unless they stay mentally strong. Basketball drills like this help the player work on their skills, but they also help them learn to stay locked in as they get tired. So it is crucial that the player stays engaged at the end of the drill and that they stay sharp with their movements.
Basketball Drill Overview
Drill Name: Number Drill 1 Ball Single Move 15 Point Finish
Equipment Needed: 2 Basketballs, 2 partners, and 5 chairs.
Similar Basketball Drills and Resources
Goals of the Drill
Work on ball handling, conditioning, thinking, and shooting.
Coaching Points
Keep your eyes up the whole time and react as quickly as you can to the number called.
Mix your moves up and think when you are tired.
Don't sacrifice your basketball shooting form as you get tired.
Basketball Drill Instructions
Place 5 chairs in a box shape with one chair in the middle.
The box chairs go on short corners and just outside the elbow.
Have the player start at the chair on the right baseline (when looking at the hoop) with the basketball.
The starting chair is number 1, followed by number 2 at the elbow, and so on all the way around till the middle chair, which is number 5.
The player will start by dribbling a basketball to each chair in order and making one move at each chair.
After the player gets all the way around to chair number 5, the coach/partner will call out the number of the next chair that the player has to go to.
The player will immediately go to the chair, make any move they want (in & out, crossover, between the legs, etc.), and by this time, the coach is calling out the next number.
Continue this for 30-60 seconds, and then the coach will call out 'finish,' and the player will score the basketball with a layup.
Now the player must score 15 total points by using the chairs as screens.
The player must set his man up under the basket each time and come off any chair for a curl, fade, straight, or pro-cut shot.
This basketball shooting drill is over once the player scores a total of 15 points.
The player is not allowed to use the same type of cut 2 times in a row.