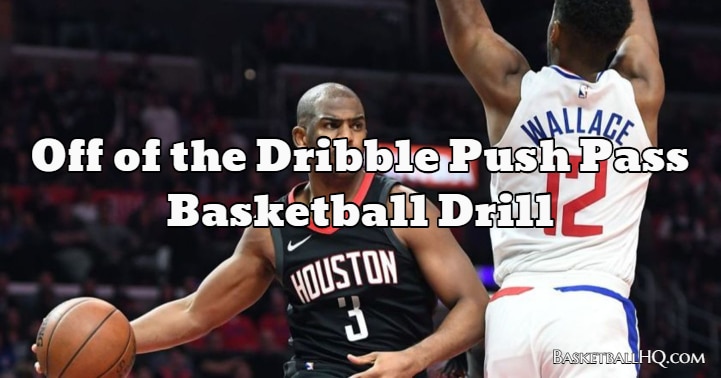 Steve Nash is probably one of the best point guards out there at passing off of the dribble. In a basketball game, this is more of an advanced pass, but if used the right way it can be very effective. It is not a very strong pass and if not used the right way it can lead to turnovers, but if mastered it can be very effective.
If you are dribbling the basketball and see an open teammate cutting, you may not have the time to pick up the ball and make a pass. That is why this type of pass is important to learn. The off of the dribble push pass basketball drill will help you work on this specific skill. Watch the video to see exactly how to do the move and the basketball passing drill.
Basketball Drill Overview
Drill Name: Off of the Dribble Push Pass Basketball Drill
Equipment Needed: 1-2 Basketballs and a partner or a wall
Similar Basketball Drills and Resources
Goals of the Drill
Improve passing off of the dribble and work on accuracy.
Coaching Points
Don't scoop the ball when making the pass, push the pass.
Stay down in an athletic position the whole time, don't raise up on the pass.
Snap the pass on a straight line to your partner.
You can practice some passes with stepping and some without.
Basketball Drill Instructions
Two players are going to stand facing each other, and one with the ball in their right hand (face a wall if you do not have a partner).
Players should be 10-12 feet apart.
When the drill starts the player is going to dribble the basketball three times and then make a push pass dribble with their right hand.
The other player will catch the ball with two hands and then repeat the three dribbles and pass.
Continue this back and forth for 30 seconds and then switch hands.