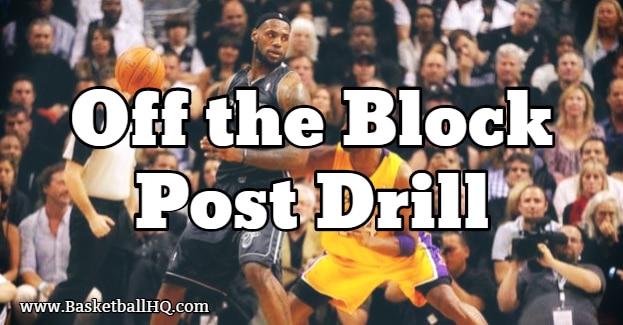 Learning to play in the post has a lot to do with positioning and angles. It helps to be bigger and stronger than the defender, but a player who knows how to use their body and can create angles for the finish can still score against a bigger defender.
This basketball training video will break down what a post player should do if they get pushed off of the block and needs to use a couple of dribbles to score. It will teach the post player to be patient, read the defense, and then make the correct move. So as you go through this basketball post move drill, really focus on the details of the move, and then look to be strong and explosive on your move.
Basketball Drill Overview
Drill Name: Off the Block Basketball Post Drill
Equipment Needed: 1 basketball and 2 partners (pad optional).
Similar Basketball Drills and Resources
Goals of the Drill
Work on making a scoring move even when you get pushed off of the block posting up.
Coaching Points
Check your inside shoulder to read the defense before attacking.
Stay under control and use a strong base when attacking.
Make sure that you don't over-rotate and open up your chest to the defender on the hook shot.

This will allow them access to the ball and a chance to block it.
Basketball Drill Instructions
The post player will be on the block with a dummy defender slightly on top of them up the lane line and behind them.
The passer will have the ball on the lane line extended outside the 3 point line.
When the drill starts, the passer will dribble over to the wing to get a better angle for the entry pass.
While this is happening, the post player will duck in and try to get post position.
The dummy defender is going to drive the post player off of the block.
The ball will be entered into the post player, who will check their inside shoulder and then attack to the middle for a hook finish.
If the hook shot is missed, the post player will look to tap the ball in.
Once the ball is scored, reset, and repeat the same action.
After the desired amount of reps, switch sides.