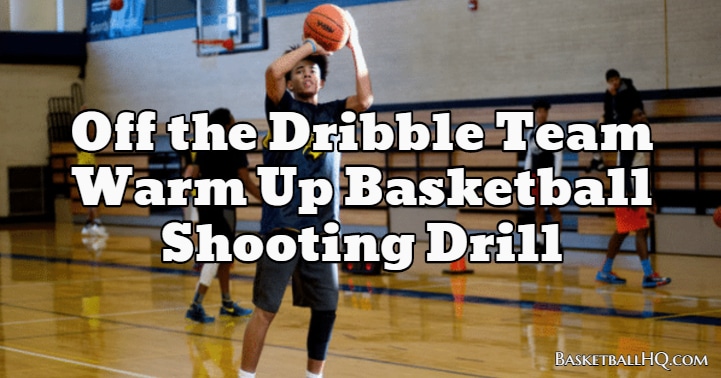 Sometimes as a coach, it becomes hard to budget in time for skill development basketball drills in practice. There are so many different areas that you need to spend time working on, and fine-tuning and skill development sometimes falls to the wayside. However, you must still be finding the time because it doesn't matter how good a basketball play is executed if your players don't have the skill to put the ball in the basket at the end of it.
This team basketball drill is great because it allows for multiple players to be at the same basket and will allow them to get a lot of high-quality shots in a short period of time. Players need to see the ball go in the basket. So having a warm-up shooting drill like this is ideal to start practice out.
Basketball Drill Overview
Drill Name: Off the Dribble Team Warm-Up Basketball Shooting Drill
Equipment Needed: 1 basketball per player and 5 cones.
Similar Basketball Drills and Resources
Goals of the Drill
Work on shooting off of the dribble.
Coaching Points
Attack with your shoulders down, keep your eyes up and stay balanced on your shot.
Work on coming in off of one dribble and two dribbles; mix it up.
Typically you make 2 shots at each cone, but you can have it be a certain number of reps or for a set amount of time.
Basketball Drill Instructions
Start by setting out 5 cones on each side of the paint 3-4 feet off of the lane line and 2-3 feet apart starting at the block.
Cones will be set up in a line that is rounded at the top.
This drill can be done with up to four players on a basket.
When this basketball shooting drill starts, the players will dribble around the lowest cone using it as a ball screen for a pull-up jump shot in the center of the paint.
They will get their own rebound and then switch sides and repeat.
They must make 2 shots at each cone before advancing to the next level.
The drill is completed once 2 shots from every cone have been made.