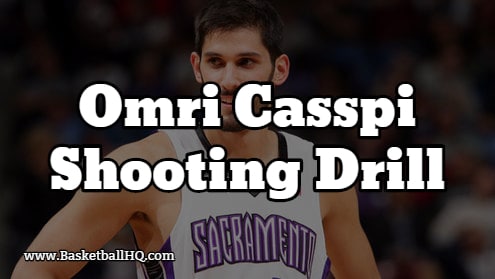 Becoming a high-level shooter is not just about physically being able to shoot the basketball; it also heavily ties into the mental side of things. Great shooters in basketball are mentally tough and can make multiple shots in a row with pressure on them. They can handle the pressure and still make big shots regardless of it.
This is an advanced basketball shooting drill demonstrated by 3-point sharpshooter Omri Casspi, and it is designed to really work on the mental side of shooting. It will force the player to make multiple shots in a row, knowing that there is a penalty for missing a shot. It is a great catch and shoot basketball shooting drill to do at the end of a workout to force the player to lock in mentally even when fatigued.
Basketball Drill Overview
Drill Name: Omri Casspi Basketball Shooting Drill
Equipment Needed: 2 Basketballs and 2 partners.
Similar Basketball Drills and Resources
Goals of the Drill
Work on catch and shoot as well as the mental side of shooting.
Coaching Points
Shoot one shot at a time.
Don't worry about the previous shot, whether it was a miss or a make.
Stay locked into the drill the whole time.
Basketball Drill Instructions
For this basketball drill, the shooter is going to shoot from 7 spots around the arc.
They are going to alternate making 3 shots in a row and 2 shots in a row from each of the 7 spots; 3 x corner, 2 x wing, 3 x slot, 2 x top of the wing, 3 x opposite slot, 2 x opposite wing, 3 x opposite corner.
If the player misses a shot, they must move back to the previous spot (except when shooting in the starting corner).
The drill must be completed in under two minutes to successfully beat the drill.