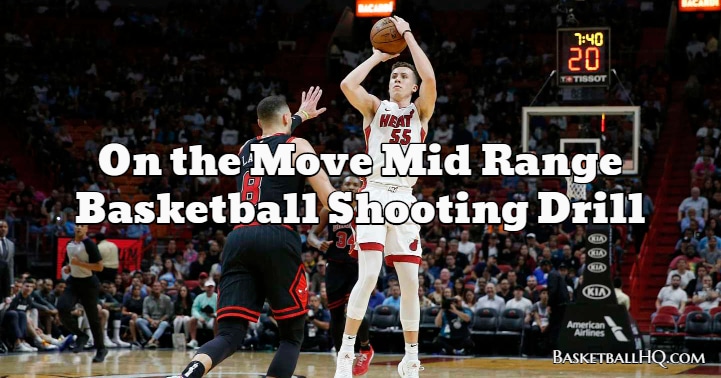 This basketball shooting drill is designed to get up a lot of repetitions in a short period of time, but it is also set up to practice the proper footwork and basketball shooting mechanics. By developing the proper shooting technique and shooting habits, you will give yourself a strong foundation to build on.
Practice doesn't make perfect; perfect practice makes perfect. So as you do this basketball drill, really focus on coming into your shot the correct way and making every shot count. If you are a basketball coach, make sure that you instruct your players the correct way and then monitor their shooting. The better you can do this as a coach, the more your team will make shots in a game when it matters most.
Basketball Drill Overview
Drill Name: On the Move Mid Range Basketball Shooting Drill
Equipment Needed: 2 basketballs, a chair, and 2 partners.
Similar Basketball Drills and Resources
Goals of the Drill
Work on stepping into your shot and shooting the same way every time.
Coaching Points
Whether you hop into your shot or step into it 1-2, it is up to you, but do the same thing every time and be consistent.
Stay in your shot until you miss or make.
Basketball Drill Instructions
Place a chair on either wing or the top of the key on the 3 point line.
One player/coach is going to rebound, and the other is going to pass.
The shooter will start on one side of the chair.
The passer will pass him/her the ball, and they will shoot a 15 footer.
After shooting the basketball, they will backpedal around the chair and then step into a 15 foot shot on the other side of the chair.
Stay wide as you go around the chair and continue going back and forth around the chair for the desired amount of time or makes.