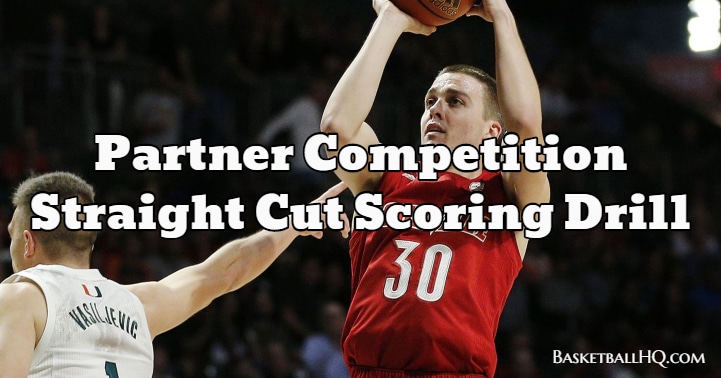 This basketball drill will work on scoring in two different ways. Both of which are great for guards or wing players. The first type of scoring move that the drill will work on is scoring off the dribble. It is going to simulate the player attacking their defender in semi-transition and then finishing at the rim.
The second type of scoring move that the player will develop is being able to score off the ball by using a down screen action. This basketball shooting drill will teach the player how to set up their defender, use the screen, and then get their footwork right and body squared up on the shot.
Along with teaching all of this, this combination basketball shooting drill will put pressure on the players because it is all going to be competition based. Hopefully, this will help generate a little game pressure that a shooter might feel in an actual game situation.
Basketball Drill Overview
Drill Name: Partner Competition Straight Cut Scoring Basketball Drill
Equipment Needed: 1 Basketball, 2-3 chairs, and 2-4 players.
Similar Basketball Drills and Resources
Goals of the Drill
Work on scoring off of the dribble and a down screen action.
Coaching Points
Mix up your speeds when you attack the chair, and sell your moves.
Be creative at the basket and try to visualize finishing over a help defender.
Set your imaginary defender up every time before using the down screen, and make sure that your footwork is correct going into your shot.
Basketball Drill Instructions
Set up a chair just inside the 3 point line at the top of the key, and a chair on each wing just inside the 3 point line on the free-throw line extended.
The line of players will start at half court, and the first player in line will have a basketball.
They will dribble down to the chair at the top of the key, make any move they want, and then finish at the basket with a unique finish (floater, runner, Euro-step, pro-hop, etc.).
They will get their own rebound and pass the ball out to the next player in line.
As soon as they do this, they will set up their imaginary defender and then come out either wing for a straight cut shot (the pass will come from the next player in line).
They will get their own rebound again, pass it out to the next player, and then get back in line.
This pattern will continue for every player until one of the players scores 21 points.
Scoring is just like game scoring with 2's and 3's.
You can lower the scoring to 15 if you have younger players.