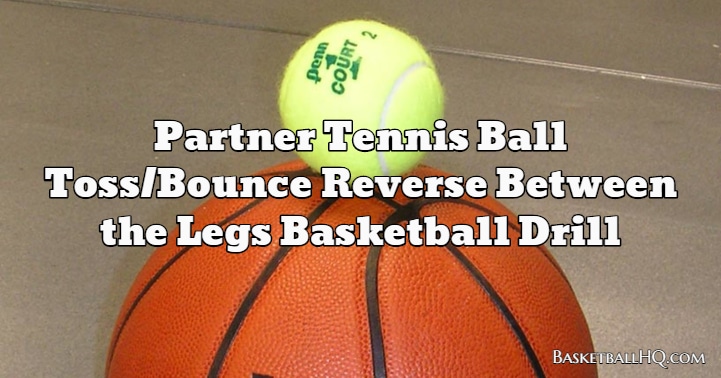 This is an advanced partner tennis ball basketball dribbling drill that is great for working on ball handling and thinking while handling the basketball. The really great point guards can dribble the basketball without having to think about it. This frees them up to run the offense, read the defense, and find the open man.
Along with working on these things, this basketball dribbling drill will help to develop communication. The players need to communicate with each other to work out when they will toss/bounce the tennis balls to each other. Hopefully, this will help players learn to communicate on the floor as they are playing in the game and practice.
Basketball Drill Overview
Drill Name: Partner Tennis Ball Toss/Bounce Reverse Between the Legs Basketball Drill
Equipment Needed: 2 basketballs, 2 tennis balls, and a partner.
Similar Basketball Drills and Resources
Goals of the Drill
Develop handles, hands, and work on thinking while dribbling the basketball.
Coaching Points
Don't raise up out of your athletic stance.
Keep your eyes up and do your best to give a good toss/bounce every time.
If you have to count out the bounces before you toss/bounce the tennis balls to each other.
When doing basketball drills like this, you must push yourself to go as fast as possible but keep good form.
Basketball Drill Instructions
Begin by having the players face each other with a basketball in their right hands and a tennis ball in their other hand.
Before starting, designate which player will bounce the tennis ball and which is going to toss it.
Both players start dribbling the basketballs and at the same time toss/bounce the tennis balls to the other player's hand, who is dribbling the basketball.
While the tennis balls are up in the air, the players will make a reverse between the legs move, and with the hand that just made the reverse between the legs move, catch the tennis ball before it hits the ground.
Go as quickly as you can for 30-60 seconds and alternate which hand makes the move each time.